Team Hall finish 4th in 4-man rankings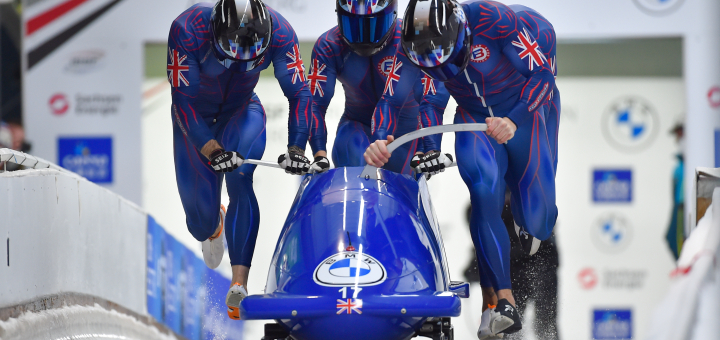 Brad Hall and his 4-man crew finished the World Cup season in a career-high fourth place in the world rankings after another strong showing in St Moritz.
Hall, Taylor Lawrence, Nick Gleeson and Greg Cackett came eighth in the final race of the World Cup season in Switzerland on Sunday in a time of 2 minutes 9.97 seconds.
The GB1 crew clocked the fourth fastest start time in each run as they again showed they can compete with the sport's leading nations just two weeks before the team depart for the Olympic Winter Games in Beijing.
Hall and co sat eighth at halfway after recording a first-run time of 1 minute 5.05 seconds and they maintained that position after registering 1 minute 4.92 seconds second time around.
With the race doubling as the European Championships, the Brits finished seventh once Canada's fifth-placed Justin Kripps was removed from the final standings.
Latvia's Oskars Kibermanis took the race win ahead of Germany's Francesco Friedrich and Russia's Rostislav Gaitiukevich.
This has been the most successful season ever for Hall and his team, with six medals won across 4-man and 2-man World Cup competitions since November, plus another won at October's Olympic Test Event in China. No British team has enjoyed such World Cup success since the 1990s.
They came within a whisker of an overall World Cup podium place as they finished just 50 points shy of Gaitiukevich in third, with Kripps taking silver behind the season's 2-man and 4-man king, Friedrich. 
Hall, Lawrence, Gleeson and Cackett won 4-man silver in Igls and Winterberg (twice) and 2-man silver in Igls and Sigulda (twice), in addition to 2-man silver in Beijing.
A top-six spot in the 2-man race yesterday saw Team Hall place fifth in the 2-man rankings and that was also their position in the combined 2-man and 4-man standings after today's competition was taken into account.
Fellow Brits Lamin Deen, Sam Blanchet, Luke Dawes and Greg Rutherford finished 19th in a time of 2 minutes 11.3 seconds as they earned a second run for the second week running. They finished 13th in the European Championships after three Canadian sleds, two Americans and a South Korean were wiped from the slate.
In the women's race on Sunday morning, Mica McNeill and Adele Nicoll were 11th at the same venue in a time of 2 minutes 17.23 seconds.
McNeill and Nicoll produced the result they were looking for in Moritz
McNeill and Nicoll improved on last week's 14th place in Winterberg as they finished within a few hundredths of a second of the Russian and Swiss sleds in ninth and 10th.
The result was the team's second best of the World Cup season after their stunning silver medal in Sigulda at the turn of the year.
The British pair jumped to seventh in the European Championship results after the two American teams in fourth and fifth and the two Canadian crews in sixth and seventh were removed from the results list.
Germany enjoyed a clean sweep of the race-day medals as Kim Kalicki triumphed ahead of compatriots Mariama Jamanka and Laura Nolte but it was Elana Meyers Taylor who claimed the overall World Cup title as Nolte and Kalicki settled for silver and bronze respectively.