Strong starts see Hall and co come ninth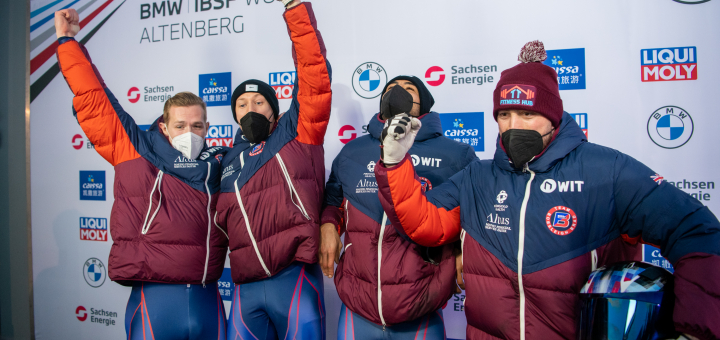 Brad Hall and his crew produced Great Britain's best result of the third World Cup in Altenberg on the back of two outstanding starts in the final race of the weekend.
Hall, Taylor Lawrence, Nick Gleeson and Greg Cackett finished ninth in the 4-man bobsleigh - a World Cup PB on one of the trickiest tracks on the circuit for 2018 Olympian Hall.
They sat 11th at halfway before jumping two spots in Run 2 with an overall time of 1 minute 49.23 seconds.
Hall had only previously raced a 4-man sled on three occasions in Altenberg but superb start times gave him a solid platform to improve upon last week's 11th place finish in Igls. The Brits were the second fastest starters in each heat in 5.12 seconds, with only serial race winner Francesco Friedrich and his team quicker out of the blocks.
Lamin Deen, Ben Simons, Ryan Letts and Joel Fearon finished 20th in the same race in a time of 1 minute 50.57.
Friedrich took gold once again as he maintained his unbeaten start to the season across both 2-man and 4-man. Benjamin Maier won silver for Austria and Rostislav Gaitukevich bronze for Russia.
Hall, Lawrence, Gleeson and Cackett were second quickest off the top
In Saturday's 2-man, Hall and Cackett finished 11th in a time of 1 minute 51.02 seconds, with start times of 5.25 and 5.27 seconds the fifth and sixth fastest of their respective heats.
Deen and Toby Olubi were 20th in 1.51.88 as Friedrich, Johannes Lochner and Gaitukevich claimed the medal spots.
With three of eight World Cup races now complete, Hall sits fifth in the 4-man and seventh in the 2-man rankings.
In the women's races this weekend, Mica McNeill placed 19th with Montell Douglas on Sunday morning having not competed in Saturday's mono bob competition. McNeill and Douglas, who raced together in World Cup 1 in Igls before Adele Nicoll took over as McNeill's brakewoman for Race 2, clocked a combined time of 1 minute 56.15 in a race won by America's Kaillie Humphries. 
Germany's Laura Nolte won silver, with Canada's Christine De Bruin taking bronze.
Next stop for the World Cup crews is Winterberg, where the men's event features a double 4-man race as Sigulda can't host the bigger discipline after over the New Year.
Over on the Europa Cup circuit in Winterberg, Adam Baird and Alex Cartagena were 20th in their last race before Christmas.
In the Para Sport World Cup in the United States, Sunday's race in Park City was cancelled due to safety concerns. Britain's Corie Mapp will go again on Monday at the same venue at 5pm GMT.