Skeleton set for World Cup campaign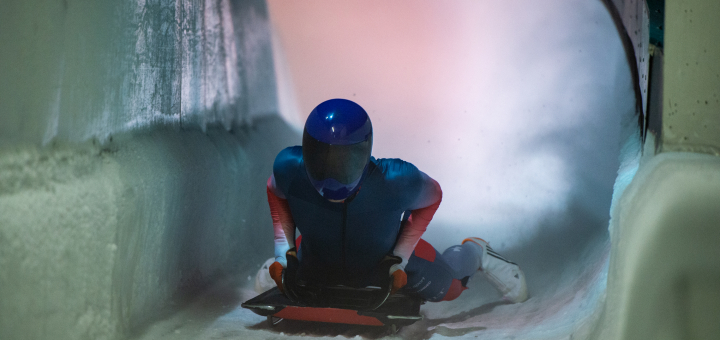 The World Cup sliding season begins this Friday as the globe's top skeleton stars take to the ice in Igls, Austria.
Great Britain will have five athletes in action in Innsbruck as Olympic bronze medalist Laura Deas is joined by Brogan Crowley in the women's event, with Craig Thompson, Matt Weston and Marcus Wyatt all racing in the men's competition.
Friday's race is the first of eight World Cups between now and mid January, with the season reaching a climax with the Olympic Winter Games in Beijing the following month.
The British Skeleton team head into the Olympic season in high spirits having enjoyed an historic year last time out.  Thompson, Weston and Wyatt secured a hat-trick of World Cup medals in 2020/21 - the first time since 2007/2008 that three different British men had won medals in the same season and the first time since Kristan Bromley made the podium three times in 2010 that the programme celebrated multiple men's medals in a single campaign.
Crowley set a personal best of fifth in the final World Cup competition of the campaign right here in Igls in January and Deas achieved the same result in Sigulda earlier in the season, while Wyatt won silver at the Olympic Test event in China late last month.
"We're in a good place as a team heading into the new season and we're excited about what lies ahead," said British Skeleton's Performance Director, Natalie Dunman.
"We enjoyed some good results last season and the Olympic Test event was a success so there are plenty of reasons to be positive.
We know we have a lot of hard work still ahead of us, though - the Olympics are less than three months away and we have to make the most of every opportunity we have between now and then.
"Our first aim is to qualify for the Games in Beijing while also making sure that we've covered every base on and off the ice as far as our preparation is concerned. However, the team also want to put down a marker to the rest of the world prior to Beijing and we will be keeping podium finishes in our sights."
Craig Thompson won silver in Austria last time out
This season's race calendar is simpler to follow than in previous seasons, with men's and women's skeleton scheduled for every Friday of a race week, rather than the previous venue dependant switches between Friday and Saturday.
The men kick things off at 9am GMT this Friday, with the women following suit at 1.30pm.
They then remain in Igls for a second week of competition next Friday, before moving on to Altenberg, Winterberg and back to Altenberg on successive weekends in December.
The World Cup circuit takes a short break over Christmas before getting back underway on New Year's Eve in Sigulda, Latvia. The team then travel back to Winterberg before the World Cup campaign concludes in St Moritz, Switzerland on January 14th.
The bobsleigh season follows the same schedule, with women's bob, monobob, 2-man and 4-man races taking place at the same tracks on Saturdays and Sundays. A preview of the first bobsleigh action will be posted later this week.
You can watch all of this season's World Cup racing via the International Bobsleigh & Skeleton Federation website and on their YouTube channel.
We'll provide updates via our own social media channels and we'll post a round up of results once they've come in.