Skeleton 6 are in good spirits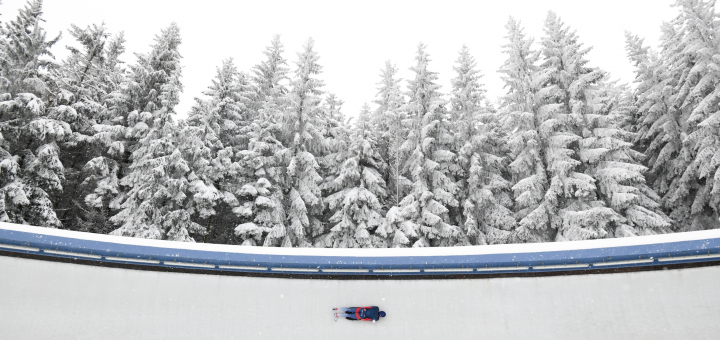 British Skeleton have selected a six-strong squad featuring three World Cup medalists from this season, a bronze medalist from the last Olympic Winter Games and a former Youth Olympic Champion for this week's World Championships in Germany.
The men's trio of Craig Thompson, Matt Weston and Marcus Wyatt all stood on the podium during the recently concluded World Cup campaign, with Wyatt winning bronze in Sigulda in November, Weston securing silver in Igls three weeks later and Thompson taking silver in Igls as recently as the end of last month.
Laura Deas leads the challenge for the British women, exactly three years after she made history with Lizzy Yarnold in PyeongChang, with 2016 Youth Olympic Champion Ashleigh Pittaway and Brogan Crowley joining Deas in the line up.
Like Thompson, Weston and Wyatt, Pittaway and Crowley have both set personal bests this season, with the later ending the World Cup calendar with a fine fifth place finish in just her sixth top-tier race two weeks ago.
It means the team have headed to Altenberg for the showpiece event of the season in high spirits according to Performance Director Natalie Dunman.
"It's been a good season and the team now want to finish it on a high," said Dunman.
"The athletes have all made progress over the last few months - we've had a number of medals and personal bests despite the fact that we always saw this as a development season.
Beijing is still the main aim but the Worlds have also been a focus for us this season. They're the main event of the year and the only four-heat race between now and the Olympics. 
"Part of their importance is the invaluable experience the team can gain from a big event but, given how close we are to Beijing, we know that good results here would be a great way to go into Olympic year.
"We know it will be tough, though - the Germans won all three medals in last year's men's race and gold in the women's and the team event so it's a big ask to come away with a medal. But we've shown we can challenge for those spots this season so we're genuinely excited about this week."
It's been an impressive season so far for the team
The skeleton events at this year's World Championships take place over three days, with the first two heats of both the men's and women's races scheduled for Thursday and Runs 3 and 4 set for Friday. Saturday then sees the team event, where a male and female slider compete in one run each, take place at 8am GMT.
Race schedule
Thurs 11 Feb
Women's Skeleton (Heat 1 & 2) 8am
Men's Skeleton (Heat 1 & 2) 12pm
Fri 12 Feb
Women's Skeleton (Heat 3 & 4) 8am
Men's Skeleton (Heat 3 & 4) 12pm
Sat 13 Feb
Skeleton Mixed Team Competition 8am
Women's monobob (Heat 1 & 2) 10.30am
Men's 4-man bobsleigh (Heat 1 & 2) 2.45pm

Sun 14 Feb
Women's monobob (Heat 3 & 4) 8am
Men's 4-man bobsleigh (Heat 3 & 4) 2pm
You can watch all the World Championship racing via the International Bobsleigh & Skeleton Federation website and on their YouTube channel.
We'll provide updates from the races via our own social media channels and we'll post a round up of results once they've come in.