Simons signs off after a decade at the top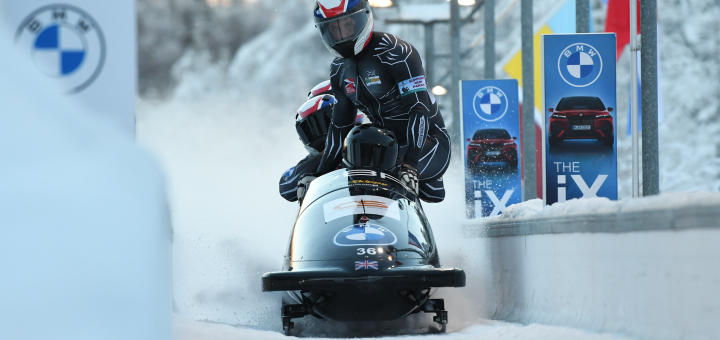 Double Olympian and World Cup gold medalist Ben Simons has announced his retirement from bobsleigh after a decade-long career at the top-end of the sport.
Simons made more than 120 appearances for Great Britain between November 2012 and February 2022, with half of those coming in World Cup competition.
The 34-year-old competed at two Olympic Winter Games in Sochi and PyeongChang in 2014 and 2018 respectively and earned selection as the reserve athlete for a third in Beijing earlier this year.
He featured at seven World Championships - making the team in his first few months in the sport and never missing selection in the years that followed - and he twice came close to a medal when finishing fifth in Winterberg in 2015 and again a year later when a third-run crash ended his team's podium hopes in Igls.
A former Welsh international sprinter, Simons made British Bobsleigh history when he won 4-man World Cup gold with Lamin Deen, Toby Olubi and Andrew Matthews in Whistler in 2017. His crew set a then world record speed of 97mph in that race and, after initially winning silver, were upgraded to gold after disqualification of the Russian sled last summer.
"Ben has been one of the country's most consistent and impressive performers over the past decade and he should be incredibly proud of not only his achievements on the ice but also the way he has carried himself throughout his time as a bobsledder," said Marc Heywood, Director of Operations at the BBSA.
His historic gold medal in Whistler five years ago will live long in the memory, as will the manner in which he has represented his country on the international stage and the way he has looked to inspire the next generation of talent over the past Olympic cycle in particular.
"Ben's ability to perform week in, week out and to produce when it mattered most meant he was always in the mix for selection for the biggest events in the bobsleigh calendar.
"To feature at seven World Championships and two Olympic Games (and earn selection as a spare for a third) speaks volumes for his ability, while the fact that he made more international appearances than any of his contemporaries as a brakeman is testament to his commitment to the sport and to his colleagues.
"Ben has been a popular team-mate and is hugely respected throughout the world of bobsleigh. He has been a pleasure to work with and we look forwarding to seeing him continue his involvement in the sport through his personal coaching business."
Ben Simons competed at two Olympic Winter Games
Simons made his GB debut on the Europa Cup circuit in Igls in November 2012, graduating to World cup competition just a month later in La Plagne.
He made the World Championship team that same season in St Moritz in both the 2-man and 4-man and then came close to the country's first World Championship 4-man medal for 76 years when finishing fifth alongside Deen, Matthews and Bruce Tasker in Winterberg in 2015.
After placing 17th in his first Olympics in Sochi, he was part of the Accelerated Driver Programme alongside Tasker and Brad Hall and competed as a pliot and a brakeman in 2015/16, before opting to concentrate on pushing rather than driving a sled prior to the PyeongChang Olympics.
He finished 18th in the 4-man at his second Games and was then selected as the spare for Hall's crew at his third having competed with Deen's team for the majority of the 2022 Olympic cycle.
"When I first headed down to Bath 10 years ago to push a sled for the first time, under-sized and under-qualified, I could never have imagined the incredible journey I was about to embark on," said Simons.
I have lived out my dreams as an Olympic athlete, travelling the world with my team-mates, and achieving more than I ever thought possible. 
"My favourite moment has to be driving home from circuit for Team GB kitting out with Lamin (Deen) in January 2014, just a few hours after qualifying for my first Olympics in Sochi. Those Olympics, plus PyeongChang and the 2015 World Champs in Winterberg and the World Cup gold in Whistler are just some of the highlights of what's been a great 10 years.
Simons made British history in Whistler in 2017
"It's hard to describe the sport of Bobsleigh to anyone that hasn't experienced it. It's more than a sport, it's a lifestyle. And it has shaped my life. Through many trials and tribulations, huge ups and miserable downs, I have grown as a person. 
"To all of my team-mates and the friends I met from across the world, you all inspired me along the way. Thank you."