Silver for Stoecker at Junior Worlds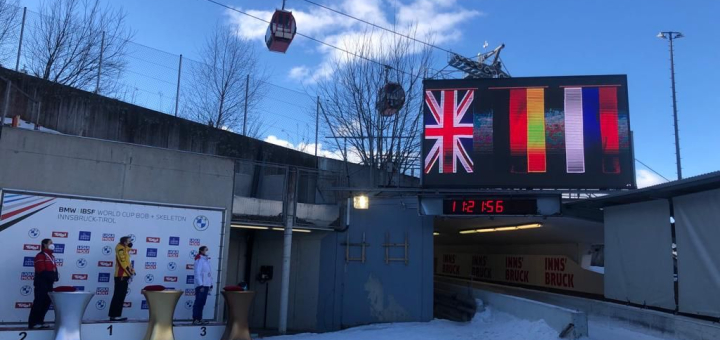 Tabby Stoecker won Skeleton Junior World Championship silver in Igls on Friday, almost exactly 10 years after double Olympic Champion Lizzy Yarnold won gold at the same showpiece event.
Stoecker clocked a combined time of 1 minute 49.46 seconds to finish second behind Germany's Susanne Kreher - an athlete who made her racing debut three years before Stoecker had even applied to join the British Skeleton programme.
The 21-year-old from Islington in London only made her international debut just over a month ago but she registered the country's best Junior World Championship result since Yarnold triumphed at the same venue in 2012.
Stoecker had just three races to her name prior to today's competition but she produced the first and second fastest start times and the second quickest down times in both runs despite facing off against no fewer than five sliders with World Cup experience.
"I can't quite believe it," said Stoecker, a former national schools gymnastic champion who joined the British Skeleton team in 2019. 
"My first run was one of the best I've done down Igls, and the second, despite being less clean, was almost just as fast. 
It's the most consistent I've been in a race so far - and what a time to do it!! 
"I really enjoyed the whole experience as I love racing and talking to all the other nations and officials.
"There was a great atmosphere and I feel so proud to have finished second at my first Junior World Champs. What a way to end my season!"
Tabby Stoecker made the podium in just her fourth race
With the Beijing Olympics just days away, focus is understandably on what lies ahead in China but today's result is a great reminder that the team are also in a good place to perform at the Milan Cortina Games in four years' time.
"Our focus as a programme is of course very much on Beijing but this is a great way for our Milano Cortina 2026 development group to sign off the regular season," said Danny Holdcroft, British Skeleton's Head of Talent.
"Tabby has had an up and down couple of years that has restricted her ice time but the belief from the programme in her ability has always remained. This success is a reminder that a natural, intuitive feel on the sled is just as important a part of performance as run volume down the track.
Every athlete earns their own success and Tabby should stand tall and enjoy her first international skeleton medal.
"However, this is just one small step on the journey to Milan Cortina 2026 and, combined with Milly Kellyman's Europa Cup medal in November and the Girls4Gold project which is now well underway, British Skeleton's junior women are on the right track to emulate both Amy Williams and Lizzy Yarnold and chase Olympic gold in four years."
Fellow Brit Freya Tarbit finished 10th in today's race in a time of 1 minute 50.42 seconds. The 21-year-old from Derbyshire sat 12th at halfway in a field of 20 before recording the seventh fastest time of Run 2 to climb the standings.
In the men's race, Laurence Bostock was seventh in 1 minute 46.19 seconds as Russia's reigning champion Evgeniy Rukosuev took gold again.