Season starts with medal haul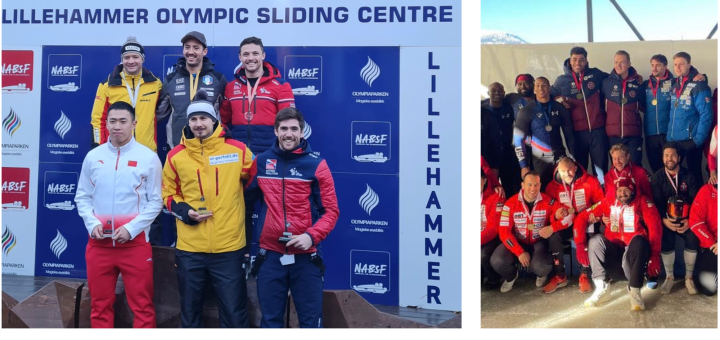 The 2022/23 sliding season began with a major medal haul as athletes from both the British bobsleigh and skeleton teams made the podiums in their first races for more than eight months.
Brad Hall and Taylor Lawrence were double medal winners, while Arran Gulliver, Rory Willicombe, Jacob Salisbury and Craig Thompson picked up a medal apiece.
Hall and Lawrence took silver in 2-man competition on the North American Cup circuit in Whistler on Wednesday, clocking the fastest starts in each heat and only missing out on gold by 0.04 seconds to Switzerland's Michael Vogt, who finished fourth at the Beijing Olympics.
They then went one better to finish first in the 4-man race at the weekend, again registering the fastest starts in both laufs in what was a first-ever competitive bobsleigh run for Gulliver and Willicombe. They claimed gold by 17 hundredths in Hall's first 4-man outing since piloting Lawrence, Nick Gleeson and Greg Cackett to sixth spot in Beijing in February. 
Gulliver and Willicombe only joined the GB set up in the summer but started as they mean to go on in the absence of Gleeson - who has switched to the front seat this season - and Cackett - who is out in Canada with the team but wasn't fit to race.
Great Britain won four medals in the opening week of the season
Over in Europe, Salisbury and Thompson won a bronze medal each in the first two Intercontinental Cup competitions of the season on Friday and Saturday respectively.
Salisbury celebrated the third medal of his career, beaten only by World Cup veteran Mattia Gaspari and current back-to-back World Championship bronze medalist Alexander Gassner in a strong field in Lillehammer. Thompson followed suit 24 hours later for his first medal since winning World Cup silver in Igls in January 2021.
Salisbury was the fastest starter in all four race heats across the two days, while Thompson set the track record in Run 1 of the second race.
In the women's races, Amelia Coltman finished sixth on both occasions - the same position that Salisbury and Thompson placed when they weren't on the podium.
The next instalment of racing comes in just 48 hours' time when 2-man bobsleigh and women's monobob kick off a busy Europa Cup week in Lillehammer.
Great Britain have representatives in both those bobsleigh disciplines on Wednesday and Thursday, as well as the men's and women's skeleton on Friday and Saturday.
The World Cup season starts the following week in Whistler, with skeleton scheduled for Thursday 24th November and bobsleigh taking place on Friday 25th and Saturday 26th.