Olympian Rice retires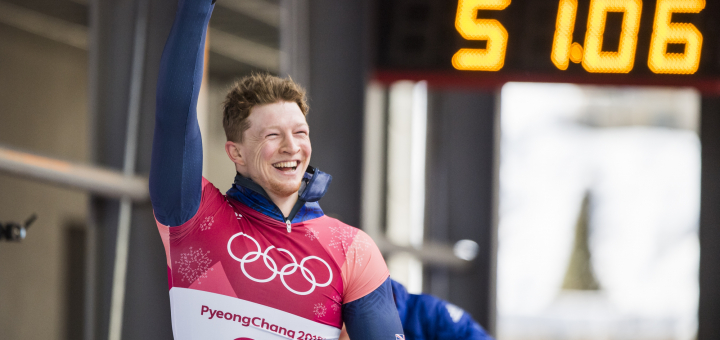 Olympian Jerry Rice has announced his retirement from skeleton after more than eight years with the British team.
Rice, who was the second longest serving member of the squad behind Olympic bronze medalist Laura Deas, finished 10th at the PyeongChang Olympic Winter Games three years ago as he saved arguably his best top-tier performance for the biggest stage of all.
The 30-year-old raced 79 times for his country and competed at two World Championships, in addition to his Olympic selection in South Korea.
A former rugby union and rugby league player, Rice won the overall Intercontinental Cup title in 2017, having finished second on the Europa Cup circuit two years earlier. He won 10 medals in total and had a World Cup PB of ninth in Igls in 2019, before ending his career with bronze in his final race on the Europa Cup circuit in Altenberg in January.
And while he initially intended to push for a place at the Beijing Olympic Winter Games in February of next year, Rice has decided to put family first and call time on a career he is rightly proud of.
"The main reason I've decide to retire is that I'm a family man now and I've got lots of responsibilities back home," said Rice, who was back from the season in time to celebrate daughter Reya's first birthday with wife Jennifer. 
"The commitment required for elite sport is a lot and I felt it wasn't worth sacrificing that much time away from my family any more in order to push on to the next step in skeleton.
I sat back and thought, 'I've had a great career, I'm pleased with it, but, in order to keep up, it's going to take extra time away from the family, and I can't fully commit to that'.
"In my head, after PyeongChang, I was all ready to go for the next four-year cycle. It was all about just building on my performance in Korea and trying to go the next step in Beijing. But having a kid changes your perspective. As an athlete, you have to be selfish: you have to have a one-track mind. You need to know where you're going and you need to put your all into getting there. 
"The moment you have a kid - and anyone who has a kid knows this - you have to take a back seat a bit and they become the priority. You do that with a smile on your face because it's amazing watching them develop and grow and you take a lot of joy from it.
"But that means that what you need to do stay in peak physical condition also takes a back seat and you very quickly see that you can maintain it for a bit while doing both but then you have to start sacrificing that special time with your family in order to stay on top of your physical training and your recovery. Sooner or later, I felt I had to make a decision between the two.
Jerry Rice made the top ten at his maiden Olympics
(Pic credit Andy J Ryan Photos)
"It was a fairly difficult decision but, when I really put my mind to it, it was the obvious decision to make. There's a lot of very strong talent in the British programme at the moment. We are coming through as one of the dominant nations and that in itself is amazing for the programme but, for an athlete in it, it means the internal competition is massive.
"In the end, I thought, 'the programme's in good hands - they don't necessarily need me and I'm more than happy to step aside and let the younger guys do what needs to be done to continue our Olympic success'. The Games was definitely in my head and I ummed and aahed about it but, in the end, it was a decision that was very simple and easy to make. I already feel like it was definitely the right decision to make and the right time to make it. I'm happy with what I've achieved and ready for the next step."
Rice is unsure what that direction that next step will be in but, wherever he goes next, he will be able to look back on his skeleton career with a smile, both in terms of the results he achieved and the memories he made.
PyeongChang is clearly a highlight for the sheer magnitude of the event but also because of how he performed and who he got to share it with. And then there's the friendships built along the way, the support from family and coaches throughout and the unique opportunities that succeeding in the sport afforded him.
And, while he would have walked away happy with his lot regardless, to go out on a high with another medal last month was a great way to round off his time with the team.
"For me, going to PyeongChang and performing to the best of my ability at the time made it all the more special," added Rice, who made his international debut five years prior to PyeongChang.
"That was probably the only race where I had my entire family in attendance and, if I had to choose one race to have them at, it would have been that one and that made it extra special. Then, on top of that, I had my team-mates all winning medals - I doubt many athletes have experienced that!
The experience was amazing and being able to share that with my family and friends was brilliant. I wanted to go on and share it with Reya as well in Beijing but the two things don't necessarily mix.
"Picking out races and good performances is all well and good but one of the main things I've found I've been looking back on and reminiscing about is those times with your team mates, on the road, the funny stories or things that happened that you can look back on now and laugh about. I remember when our van broke down in Germany and we were stuck there for three days unable to get home! At the time, it wasn't fun, but those times with the team and the camaraderie they build, are the things that mean more than medals and race results. Forming those bonds with people is something I will always remember.
"My last race ended up being the Europa Cup race in Altenberg and it was nice to come away with a medal because, at that point, I'd already decided to retire. It felt like I was on the way out but not on the way down.
Rice won a medal on his last international outing
"I had some time to rest after I got home and I'm now on the job hunt, looking to expand my horizons and pick up new skills. I'm on full-time Daddy day care at the moment and I'm enjoying watching Reya grow but I'm looking to move into the world of work soon. I'm looking to find something that I enjoy and that motivates me as much as skeleton did.
"I would just like to personally thank my wife, mum, dad, siblings and friends - aka 'the Rice Pudding Fan Club' - for their unwavering spirit and for bringing the party wherever they went. 
"Also, to my personal sponsors who gave me the support to achieve my goals, and, finally, to all the British team and the wider skeleton community for the fantastic memories that made my career extremely special."
"Jerry should be really proud of what he's achieved," said Performance Director, Natalie Dunman.
"He's been a big part of the programme for a long time and he's had real success during that period.
To win ten medals for your country is a huge achievement and one that not many athletes can match. He's represented the country all over the world and has been a consistent performer for a number of years.
"The fact that he was able to produce his best form when it really mattered in PyeongChang also says a lot about Jerry, as does the fact that he's made this decision now when he feels he isn't going to get better as a slider - he's always wanted to succeed rather than just participate. 
"Everyone here wishes Jerry the best for whatever comes next and we're sure he will approach it with the same infectious enthusiasm he showed throughout his skeleton career."