Ninth for Weston in World Cup finale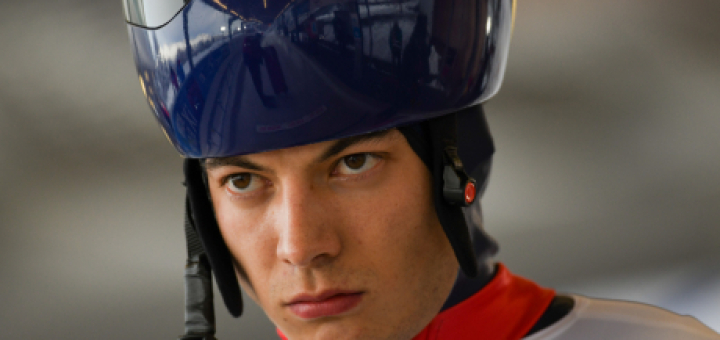 Matt Weston ended the World Cup skeleton season with a ninth-place finish in St Moritz, Switzerland on Friday afternoon.
Weston, who won the country's first men's World Cup gold for almost 14 years in November, clocked a combined time of 2 minutes 15.52 seconds at the sport's only natural ice track.
The race also doubled as the European Championships, with Weston achieving the same position in that event as Olympic Champion Sungbin Yun was the highest-placed non-European slider in 10th.
The 24-year-old, who is only in his second full season of top-tier sliding, ended the season 10th in the overall World Cup rankings despite only featuring in seven races after competing on the Intercontinental Cup circuit a week ago.
Marcus Wyatt finished 20th in St Moritz and 19th in the overall standings after coming down in a time of 2 minutes 16.64 seconds. Craig Thompson placed 23rd of 31 sleds in a one-run time of 1.08.40. Wyatt was 15th and Thompson 18th in the European Championships once all non-European sliders had been removed from the World Cup race result.
Latvian Martins Dukurs took the race win and overall World Cup title (his 11th World Cup crown), with Germany's Axel Jungk and Christopher Grotheer securing second and third overall after Alexander Gassner and Grotheer won silver and bronze on the day.
Laura Deas was 17th in St Moritz
In the women's race, Laura Deas finished 17th in a combined time of 2 minutes 20.48 seconds. Deas sat 17th at halfway and maintained that position at the end of her second run.
Brogan Crowley placed 23rd in a one-run time of 1.11.78 to bring her first eight-race World Cup season to a close.
Deas was 11th and Crowley 14th in the European Championships.
Those results saw Crowley and Deas finish 18th and 20th in the overall World Cup rankings. Australia's Jaclyn Narracott, the wife of GB Olympic bronze medalist Dom Parsons, won gold for Australia in Moritz. Narracott had never medalled on the World Cup circuit before but she led at halfway and eventually finished six hundredths ahead of Kimberley Bos and 0.66 clear of Mirela Rahneva.
Dutch slider Bos claimed the overall World Cup title via her sixth podium place of the season, with Austria's Janine Flock and Russia's Elena Nikitina taking overall silver and bronze.
The skeleton season now moves on to the Olympic Winter Games in Beijing next month, with the Team GB Skeleton squad due to be announced in the middle of next week.