New Year, same aims for Skeleton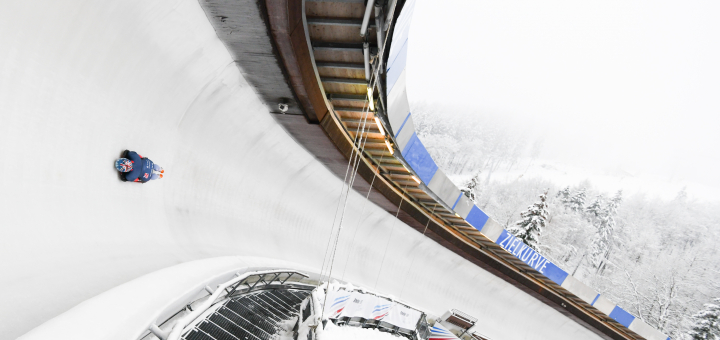 British Skeleton will be hoping to start 2021 in the same way they ended 2020 when the sliding season resumes again in Winterberg this weekend.
The team headed into the New Year on a high after a superb start to the season in Sigulda and Igls.
The men have already won two World cup medals - the first time they have achieved that feat in a season since 2010 - after Matt Weston won silver in Igls just three weeks after Marcus Wyatt took bronze in Sigulda.
Olympic bronze medalist Laura Deas has finished fifth and sixth in her two events so far this term, while the men have now claimed second, third, fourth, fifth, sixth, seventh and eighth-place finishes over four World Cup races in the first half of the campaign.
The first race of 2021 takes place on Friday, with the event doubling as the fifth World Cup meet of the season and the European Championships.
Despite the impressive results to date, Performance Director Natalie Dunman has already made it clear that the focus this season is on development for Beijing 2022 and Milan Cortina 2026 rather than on results alone, and the decision to select a mix of youth and experience in the squad continues this week.
Deas returns to World Cup competition after missing the two most recent races in Igls, as do Wyatt, Craig Thompson and Ashleigh Pittaway, but Weston won't race in Winterberg despite his maiden medal last time out.
Benji Fulker will make just his second World Cup appearance of his fledgling racing career, with Pittaway joining Deas and Madelaine Smith in the women's race.
"It's been a really good start to the season and the results have almost been a bonus for us," said Dunman. "The key thing this year is getting the team in the best possible place for the Olympics but picking up medals and top six spots while doing that is obviously a real boost.
"Matt's silver medal was a brilliant achievement, especially when he'd only had five World Cup races before that. It was also confirmation that the plan the coaches have for him is working and that it can work for others, too. 
"Matt was given the opportunity to step up to the World Cup last season in his first year of competition and he's reaping the rewards already.
We're giving similar opportunities to other athletes and, while everyone will progress at their own pace and we're not expecting them all to match what Matt has achieved, we're confident it can speed up their development. Benji gets another chance to do that this week.
"Laura, Ashleigh, Craig and Marcus all sat out the last two races in Igls as we looked to get them ice time elsewhere as part of their Beijing preparations and they're all really keen to compete again this week.
"They had strong starts to the season in Sigulda and we feel they're in a good place to make more progress on Friday."
Friday's race is the first of four successive World Cup weekends for the team, with the circuit moving on to St Moritz and Konigssee before heading back to Igls for the final World Cup competition of the season in the last week of this month. 
The men's race begins at 9am, with the women following at 1.30pm GMT. Canadian and American sliders feature for the first time this season.
You can watch all of this season's World Cup racing via the International Bobsleigh & Skeleton Federation website and on their YouTube channel.
We'll provide updates from the races via our own social media channels and we'll post a round up of results once they've come in.