More medals in week 2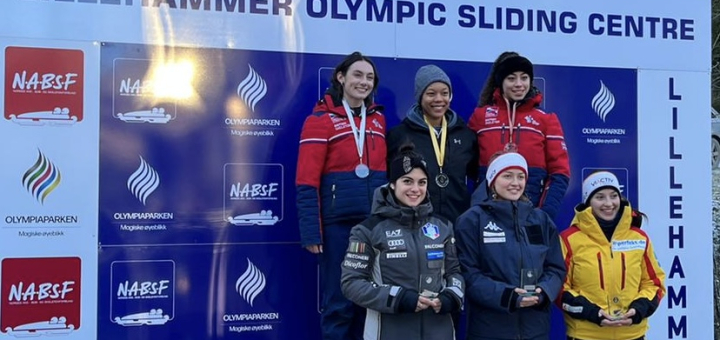 British Skeleton's medal winning start to the season continued in Norway at the weekend and there were strong showings from new bobsleigh pilots at the same venue, while para bobsledder Corie Mapp kicked off his World Cup campaign with silver in the United States.
Freya Tarbit won gold and then silver in back-to-back Europa Cup Skeleton races, with team-mate Tabby Stoecker building on her fourth-place finish on Friday by adding bronze on Saturday.
Tarbit took a stunning gold in just her eighth international competition, pipping Italian World Cup slider Alessia Crippa by one hundredth of a second in Lillehammer.
The 22-year-old from Derbyshire again beat Crippa in Race 2 as she finished second behind American Mystique Ro, with Stoecker just a tenth of a second back as she claimed a second medal in six races following last season's silver at the Junior World Championships.
Mapp was a medalist on the other side of the world as he begun his quest for a second overall World Cup title with a strong showing in Lake Placid.
The double amputee had to wait longer than originally planned to get his season going after the competition opener in Whistler was cancelled earlier this month but he started superbly in finishing just four hundredths of a second behind Guillermo Castillo in New York State.
That was the 44-year-old's 33rd medal for his country and his fifth in eight races in Placid. He followed that second place with fifth 24 hours later, missing back-to-back medals by 14 hundredths to sit third in the world rankings ahead of the January double header in Igls. 
Corie Mapp, Tabby Stoecker & Freya Tarbit won medals for GB
Back in Norway, Adelé Nicoll started life in the front seat of a bobsled with a wider podium place as she finished sixth and seventh in the women's monobob in Lillehammer.
Nicoll won World Cup silver in Sigulda in January and was selected as the reserve brakewoman for February's Olympic Winter Games in Beijing before swapping to pilot duties this season.
Mica Moore made the same switch this summer and the 2018 Olympian placed 13th and 14th in her debut outings in the same races.
Nick Gleeson is another to have moved from back seat to front and he began life as a pilot with a brace of 11th-place results in the 2-man bobsleigh with Alex Catagena in a 30-strong field in Lillehammer. Gleeson won multiple World Cup 2-man and 4-man medals with Brad Hall as a push athlete last season and represented Team GB at both the 2018 and 2022 Olympics before opting to make the change for the Milan Cortina cycle.
Adam Baird was 13th and 15th with Alasdair Kay and John Stanbridge 15th and 21st with Luka Williams in the 2-man races before Stanbridge came 12th and 15th with Josh Hudson, George Jenkins and Owen Allner in the 4-man competition. For Kay, Williams, Jenkins and Allner, this was their first taste of senior international competition.
Nikki McSweeney, Maddison Illsley & Adelé Nicoll made the top six
In the women's competition, Nikki McSweeney finished a fine fifth in the second of two races alongside debutant Maddison Illsley having placed eighth first time around. Felicity Bee finished 11th with Willa Gibb and 12th with Risqat Fabunmi-Alade in the same discipline.
In the men's skeleton in Lillehammer, Kane Densley was 11th and 21st in his two races in a massive 46-strong field, with Patrick Atkin 14th and 20th and Ronnie Wells 22nd and 23rd.
For updated race results and future race dates, click here