Medal a timely boost for Thompson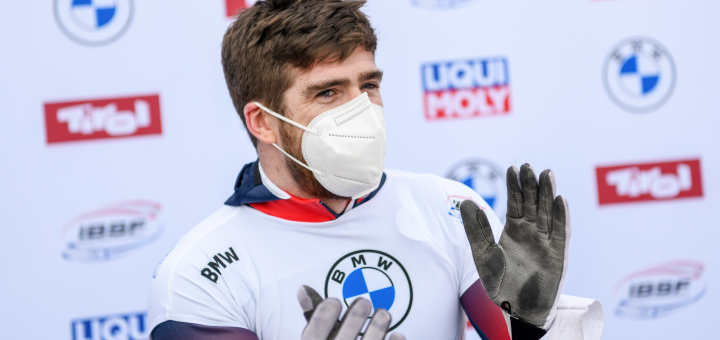 Craig Thompson heads into today's first two heats of the World Championships in good spirits having ended the World Cup campaign on a major high.
The former footballer won World Cup silver in Igls a fortnight ago - his maiden medal in top tier competition - and he freely admits it was a timely boost prior to the season showpiece in Altenberg.
"It's massive to get your first World Cup medal and to show that you can compete with the best in the world," said Thompson, who starts 15th of 33 sliders at 12pm GMT today. 
"Winning a medal at any level is going to be a massive boost to any athlete. Winning it on the top tier gives you a nice little boost for the last race of the season.
To have that in my back pocket is great. Knowing in my mind that I can compete with these guys is a big thing for me.
"It's nice to do it the race before the World Championships, too. It wasn't a full field because the Dukurs brothers weren't there but you can only beat what's in front of you. It's a real good feeling and something I want to try and replicate a lot more.
"I'm in a pretty good space right now, coming off one of my most successful seasons. Hopefully, I can carry on that momentum and get a decent result here."
As well as his silver in Austria, Thompson also registered fifth, sixth and seventh place finishes across his six World Cup races in a superb season for the squad as a whole.
Matt Weston and Marcus Wyatt also won World Cup medals as the men's team recorded their best season since 2007/08 and Thompson says that strength in depth and internal competition is another big positive.
"It's been a real good, solid performance from the whole team so far this season," added Thompson. 
"And it's not just me, Marcus and Matt - the guys who've come in when we weren't sliding, they really stepped up and put in some great performances. It shows really good depth in the squad and it shows that we're a nation to look out for. It's been a really good season for the squad as a whole.
"Whenever you see your team mates doing well, you don't want to be the one to let the squad down. That makes you slide better and perform at the next level. We feed off each other and we've been doing that again in prep for this week."
Race schedule
Thurs 11 Feb
Women's Skeleton (Heat 1 & 2) 8am
Men's Skeleton (Heat 1 & 2) 12pm
Fri 12 Feb
Women's Skeleton (Heat 3 & 4) 8am
Men's Skeleton (Heat 3 & 4) 12pm
Sat 13 Feb
Skeleton Mixed Team Competition 8am
Women's monobob (Heat 1 & 2) 10.30am
Men's 4-man bobsleigh (Heat 1 & 2) 2.45pm
Sun 14 Feb
Women's monobob (Heat 3 & 4) 8am
Men's 4-man bobsleigh (Heat 3 & 4) 2pm
You can watch all the World Championship racing via the International Bobsleigh & Skeleton Federation website and on their YouTube channel.
We'll provide updates from the races via our own social media channels and we'll post a round up of results once they've come in.