McNeill announces bobsleigh retirement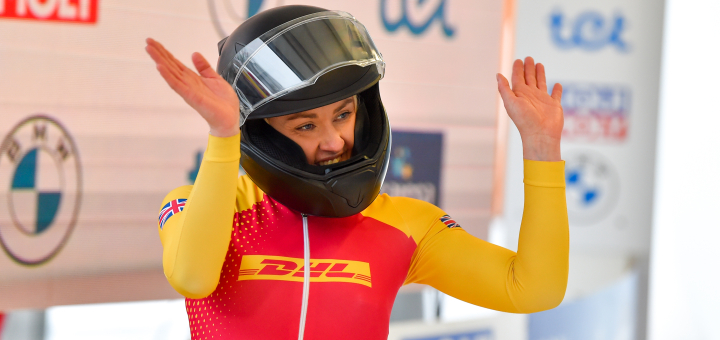 Mica McNeill has announced her retirement from bobsleigh after an impressive 12-year career in the sport.
McNeill competed at two Olympic Games and seven World Championships and made more than half a century of World Cup appearances between 2013 and 2022.
Her eighth-place finish at the 2018 Olympics in PyeongChang was the country's best-ever women's result, while her World Cup silver in Sigulda in January 2022 was GB's first female medal for 13 years.
The 29-year-old won Junior World Championship gold in Winterberg in 2017, four years after claiming bronze at the same event and just a week before taking Europa Cup gold at the same venue.
A Youth Olympic silver medalist in 2012, McNeill's most recent race came at the Olympic Winter Games in Beijing in when she finished 17th alongside Montell Douglas.
"After an incredible 12-year adventure in the world of bobsleigh, it's difficult to put all of my emotions into words," said McNeill on social media.
I stand at the beginning of a new journey and I am full of happiness and gratitude for the wildest, most exciting chapter I've had to date.
"Looking back, I carry so many memories close to my heart; the friendships, places and pure thrill of this crazy sport but also, the challenges that shaped me along the way. The good, the bad and the absolutely unexpected!
"Although I am announcing my retirement as an athlete, I don't think I will ever stray too far away from a bob track, who knows what the future will hold for me and bobsleigh. 

"Through uncountable hours of work and 2x Olympic Games, I have to say, my coaches, teammates and loved ones carried me through. However, I must give a special thank you to DHL, who without, my journey would have been a lot less bright.

"Sport has always been close to my heart so something dedicated to empowering others' aspirations had to be next! Introducing my new venture: The Athletes' Agency."
Mica McNeill won silver in Sigulda in her last World Cup season in 2021/22
McNeill, who hails from Consett in County Durham, joined the British Bobsleigh programme in 2010 after former World Champion Nicola Minichiello visited her school looking for athletes to compete at the inaugural Youth Olympics in Innsbruck. 
She made the podium with now GB long jumper Jazmin Sawyers at that event in 2012 and went on to represent Great Britain a total of 120 times following her debut in November 2011.
McNeill won no fewer than 26 gold, silver or bronze medals in that time, including five race wins on the North American Cup circuit to go with her Junior World Championship title and EC win in Winterberg. 
"Mica should be incredibly proud of what she has achieved in her time as a bobsleigh athlete," said Marc Heywood, Director of Operations at the BBSA.
To represent your country on more than 100 occasions and win 26 medals along the way is hugely impressive.
"Mica's Youth Olympic silver medal and her eighth-place finish at the 2018 Olympic Winter Games were standout moments, as was her ground breaking Junior World Championship win and her World Cup silver with Adele Nicoll in Sigulda.
"She has done the country proud for more than a decade and has set standards for others to follow over this Olympic cycle and beyond. We're certain she will be a success in her new venture and we wish her well for what lies ahead."