McNeill & Nicoll win historic silver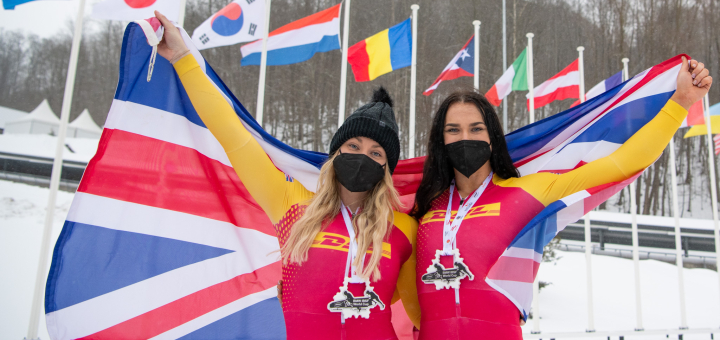 Mica McNeill won her first World Cup medal on Sunday morning as she secured silver with Adele Nicoll in the women's bobsleigh in Sigulda.
McNeill is a former Junior World Champion and Youth Olympic silver medalist but this was her maiden World Cup medal in 51 races.
The medal was the country's first in women's World Cup bobsleigh since Nicola Minichiello and Gillian Cooke took back-to-back bronze in St Moritz in January 2009 and it was the first silver since the same pair finished second in Konigssee earlier that month.
It was the second silver in as many days for the British team after Brad Hall and Greg Cackett made the podium in the 2-man bobsleigh on Saturday afternoon.
McNeill and Nicoll had raced together just twice prior to today's competition and neither had raced at Sigulda before but they clocked a combined time of 1 minute 42.10 seconds to finish 18 hundredths of a second inside the medal spots.
They sat third at the halfway mark and guaranteed themselves at least a bronze with another strong slide in Run 2 before Russian race leader Nadezhda Sergeeva overturned as she chased gold.
America's Elana Meyers Taylor took top spot, with Canada's Christine De Bruin winning bronze behind the Brits.
"It's an absolutely brilliant way to the start the New Year with our first ever World Cup podium finish," said McNeill, whose previous World Cup best was a fourth-place finish alongside Montell Douglas in Altenberg in January 2019 and in Igls in December 2020.
"We're still on the journey to qualifying for the Olympic Games but we're feeling optimistic heading into next week's race.
"We are so thankful to our team and to DHL for everything they do to support us."
Sunday was a first World Cup podium finish for McNeill and Nicoll 
Nicoll was competing for Great Britain for just the third time, having been an unused travelling reserve last season. 
The 25-year-old, who has already qualified to represent Wales in the shot put at this summer's Commonwealth Games in Manchester, finished 20th with McNeill on her World Cup debut in Igls in November after coming 10th in the Olympic Test Event in October.
"I'm so happy with today's results. This was only my second time racing on World Cup. Second race, second place!" added Nicoll. 
"I've had such an incredible journey with team DHL McNeill so far and I'm excited for what's to come and our mission to get to the Olympic Games. 
I'm just so happy that I could help Mica get such a good result. I feel so confident sliding behind her and I'm glad to have given her the start she needed to get onto the podium.
"Massive thanks to DHL for making it all possible." 
McNeill and Nicoll now move on to Winterberg in Germany for World Cup 7, before the circuit concludes in St Moritz on the weekend of January 14-16. 
There is still one more race to go in Sigulda, though, with Hall and Nick Gleeson competing in the second 2-man race of the weekend at 11.30am GMT.