GB halfway to historic medal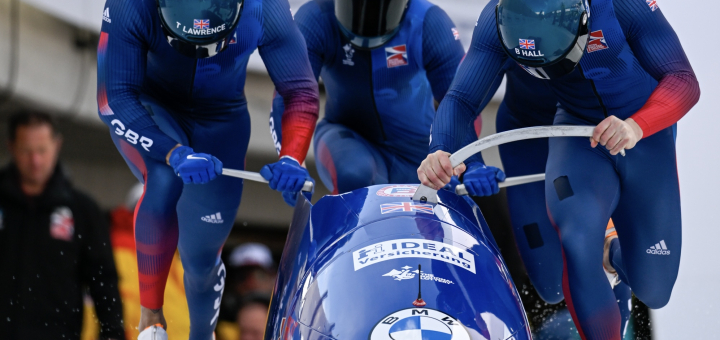 Great Britain are halfway to a first 4-man bobsleigh World Championship medal in 84 years as they sit second after the opening two heats of the season showpiece in St Moritz.
Brad Hall, Arran Gulliver, Taylor Lawrence and Greg Cackett clocked a combined time of 2 minutes 10.03 seconds in Switzerland to trail race leader Francesco Friedrich by 0.2 seconds ahead of tomorrow's final two runs.
No British 4-man team has medaled at the World Championships since Frederick McEvoy piloted the team to silver in Cortina in 1939. The last British men's medal in any discipline came when Olympic Champions Tony Nash and Robin Dixon took bronze at the same track in 1966. 
Only female athletes Nicola Minichiello and Jackie Gunn (silver in Calgary in 2005) and then Minichiello and Gillian Cooke (gold in Lake Placid in 2009) have seen the Union flag raised at a World Championship medal ceremony in the last 57 years.
Hall and his crew won the two most recent World Cup races in Altenberg heading into this weekend's action but Friedrich has won the last four World Championship 4-man races and is the back-to-back Olympic Champion.
GB were the second quickest starters in the first heat in 4.99 seconds, with only Friedrich's sled faster off the top, and it was a similar story in Run 2 as the British team went joint fastest in 4.96 before their German rivals clocked 4.95 on their way to a track record.  
Hall, Gulliver, Lawrence and Cackett trailed arguably the greatest bobsledder in history by just one hundredth of a second after the first run but Friedrich extended that lead second time around.
There is a clear gap back to bronze as Latvia's Emils Cipulis sits 0.38 seconds behind Hall, with newly crowned 2-man World Champion Johannes Lochner 0.64 shy of the Brits in fourth.
Germany's No3 crew piloted by Olympic bronze medalist Christoph Hafer are fifth, a further 0.29 adrift and home favourite Michel Vogt sits sixth.
Runs 3 and 4 are scheduled for tomorrow from 12pm GMT. The action is live on the IBSF YouTube channel and website.