How to follow the Olympic action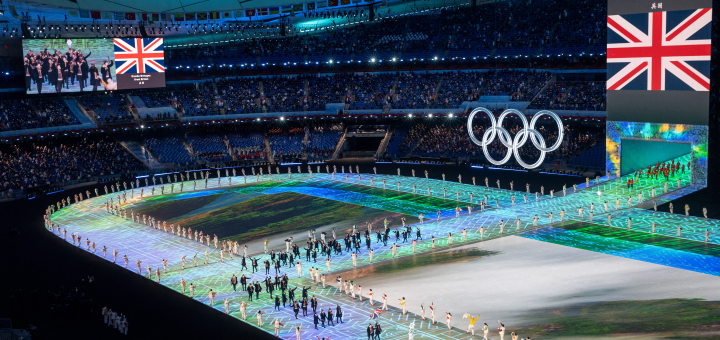 The bobsleigh and skeleton action at the Olympic Winter Games will be available to watch on both the BBC and Discovery/Eurosport over the next two weeks.
Coverage of the skeleton racing begins in the early hours of Thursday, February 10th UK time, with the first British involvement in the bobsleigh competition coming four days' later.
With no option of heading out to Beijing to watch the Games in person, we're hoping that large numbers will instead tune in to cheer on our teams from a living room, bedroom, office or pub as winter sports take centre stage after our Team GB summer counterparts shone in Tokyo just six months ago. 
Here's how to watch the action from back here in the UK:
BBC 

Free-to-air overage of these Olympic Games is a little more complicated than it was in PyeongChang four years ago as Discovery are now the UK's primary rights holder.
The BBC still have access to all the action but can only show two live events at any one time across all their platforms.
That means that, while they would love to show all our races live, they may not be able to as they have to follow the editorial story. For example, if GB are in with a medal shout in the curling rink or legendary US snowboarder Shaun White is about to take his final Olympic run, they could opt to show that action live rather than the first two heats of our races. When it comes to Runs 3 & 4, there's a much greater chance they'll be shown live whatever else is going on at the time, whether that be on BBC 1 or 2 or via the Red Button, iPlayer or the BBC website. 
Discovery
Discovery Plus (including EuroSport) will be showing all the Olympic events, meaning it's the best place for guaranteed coverage.
You need a subscription but there are cheap / free options. Please note that we're not promoting the below and we can't be held accountable if you have any difficulties with any of the offers or things change - we're just trying to make it as easy as possible for you to understand how to watch if you want to.
It's £6.99 a month if you sign up direct via this link. The minimum term is just one month but you need to give notice otherwise you'll be charged again. They've also got an offer of £29.99 for the year.
If you're a Sky customer, you can add Discovery Plus free for a year by following this link
If you're a Voadfone customer, it's free for six months on your phone and then £4.99 a month via this link
IBSF website and YouTube
We know many of you watch the World Cup races via the IBSF platforms but, unfortunately, that isn't an option for the Games as none of the races will be on the IBSF website or YouTube channel.
Familiar faces and recognisable voices
There will be plenty of familiar faces and recognisable voices across the Olympic Winter Games coverage this month, with at least four former athletes and one who slid for GB as recently as last month playing leading roles in the media delivery of the Games.
Double Olympic Champion Lizzy Yarnold and 2014 bronze medalist John Jackson will be part of the BBC's coverage, while 2010 gold medal winner Amy Williams is at the heart of Discovery's offering alongside Greg Rutherford, who competed on the World Cup circuit in Winterberg and St Moritz in January.
Plus, our very own Events Manager and five-time World Championship slider Donna Creighton will be commentating alongside Martin Haven on the same channel.
If you can't get to a TV or can't commit to watching the races live, we'll be rounding up all the action as usual on our social media channels so please give us a follow if you don't already.