History made with 2-man & combined medals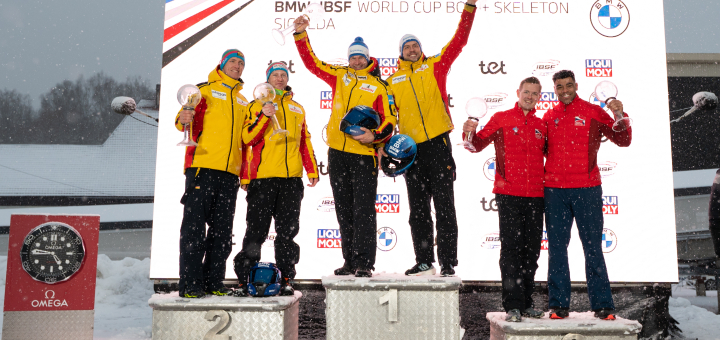 Pilot Brad Hall and brakemen Taylor Lawrence and Greg Cackett became Great Britain's first ever 2-man bobsleigh Overall World Cup medalists on Sunday afternoon.
Hall, who was pushed by Lawrence in six races and Cackett in two, finished third in the overall standings of a competition that has been running since the 1983/84 season.
The former decathlete finished equal fourth in the final race of the season in Sigulda with Cackett and won four medals across eight races, never placing outside the top five all year.
Hall and Lawrence won silver in Whistler, Park City and Altenberg and bronze in Winterberg, and were fourth in the second Altenberg event and the first in Sigulda, with Hall and Cackett fifth in Lake Placid before today's race.
They finished the season on 1582 points, almost 200 clear of Switzerland's Michel Vogt in fourth and behind only World Champion Johannes Lochner and Olympic Champion Francesco Friedrich. Lochner's gold marked the first time Friedrich hadn't finished top of the standings since the 2017/18 season.
Brad Hall & Greg Cackett made the wider podium again today
Today's success comes seven days after Hall, Lawrence, Cackett and Arran Gulliver won Overall World Cup silver in the 4-man event - the country's first men's overall medal in any discipline since 1995.  
It means the team have also won bronze in the Overall Combined World Cup competition - calculated by adding the 2-man and 4-man tallies together. No GB men's crew had made the combined podium since Mark Tout's team took bronze in 1994. Nick Phipps is the only other men's pilot to have matched that feat way back in 1986.
Friedrich took gold in the combined event, with Lochner second and Hall third.
"If someone had said we would win Overall World Cup medals in the 2-man, 4-man and Combined this season, I don't think many people would have believed you. But we knew we had the ability to do that and we were pretty confident as a team all year," said Lawrence, a serving Royal Marine. 
We started the season well and we kicked on from that. Brad's been driving brilliantly all season and we've regularly been among the top starters in 2-man and 4-man. We've been really consistent and winning Overall World Cup medals in both disciplines and the Combined shows that.
"We'd have liked to have finished with another couple of medals in Sigulda but it's been an incredible season. It's the most successful GB have had for so many years and we're really proud of what we've been able to achieve.
"Big thanks to our coach Graham Richardson, our families and friends, and to everyone who's supported us. We hope we've given people back home something to shout about." 
No GB men's team has ever medalled in the overall 2-man, 4-man and combined competitions during a career but Hall, Lawrence, Cackett and Gulliver have achieved that in a single season. 
In addition to 2-man Overall World Cup bronze, Overall Combined bronze and Overall 4-man silver, they finish the year with a total of 11 World Cup medals (including three gold); a first ever men's European Championship 4-man crown; and a first 4-man World Championship medal for the country since 1939 thanks to silver at the season showpiece in St Moritz earlier this month.   
To view the final standings for each men's bobsleigh discipline, please click below: