Hall sets sights on top six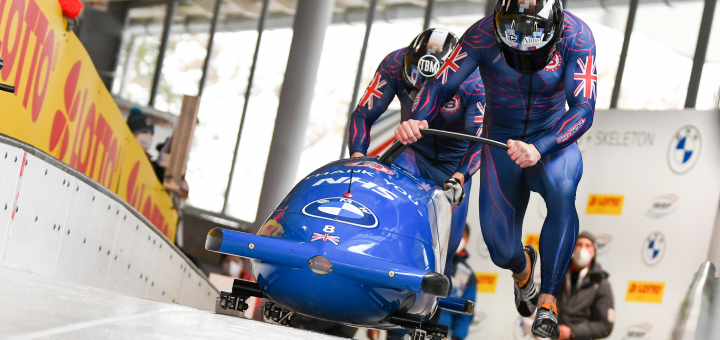 Brad Hall and his crew have been hit by bad luck more times than they care to remember this season but they've still got their sights on a top six spot at this weekend's World Championships.
Serous injuries to Nick Gleeson and Sam Blanchet and early season ankle worries and ongoing back problems for Hall himself, plus a positive Covid test in the team in November and problems getting Luke Dawes back out on circuit last month mean it's being a tougher ride than any of them would have liked in pre-Olympic year.
But it's not been a season without strong performances, particularly in the 2-man discipline in which Hall and co have improved significantly since the last Olympic Winter Games in PyeongChang three years ago.
A joint fourth finish in the World Champs in Whistler with Gleeson in 2019 was followed by a silver medal with Cackett at the World Cup in Igls last year as the team finished fifth in the overall IBSF rankings. And while they've had a whole heap of misfortune this time around, they've still made the top ten in all bar one of their eight races this season.
Hall and Cackett were fifth and then seventh in Konigssee and Igls over the last two weekends and they're aiming for something similar in Altenberg on Saturday morning and Sunday afternoon.
"We've definitely got confidence as a pairing," said Hall. "Greg's always in good shape and it's great to have him behind him me.
"He always gives us great velocity into the track. Fingers crossed we can have a good start and I can drive us down well. Training's gone well so it's looking good.
"The competition is really tough in the 2-man, though. What it's really going to come down to is the start. 
We know that the Germans are strong and their equipment is superior to everyone else's so it'll be especially difficult to get ahead of them, particularly on their home track. The Latvians will be tough to beat, too, but I think top six is a good target.
"The aims for the start have got to be in the same region. Altenberg is a really tough track to drive so hopefully my driving experience can shine through and whatever position we start we can grab another place or two. 
"It'll be tough because we've got a heavy sled as Greg's quite a light guy. We need to overcome that on a long, flat start but he can stay out of the sled a little bit longer to give us an extra bit of velocity. We want to be a top six start and a top six downtime as well – that's what we're aiming for and we're looking forward to that challenge."
Fellow Brits Lamin Deen and James Dasaolu also go for GB in the 2-man race at 9am GMT and you can read our preview with Deen here.
You can watch all the World Championship racing via the International Bobsleigh & Skeleton Federation website and on their YouTube channel.
We'll provide updates from the races via our own social media channels and we'll post a round up of results once they've come in.