Silver for Hall & Lawrence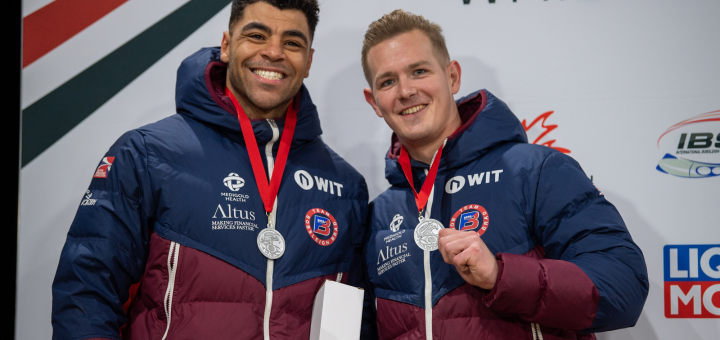 Brad Hall and Taylor Lawrence won bobsleigh World Cup silver in the opening race of the season in Whistler in the early hours of Saturday morning.
It was the latest medal of a stunning start to the World Cup campaign for Great Britain after Marcus Wyatt, Brogan Crowley and Matt Weston won gold, silver and bronze in the skeleton events 24 hours earlier.
Hall and Lawrence clocked a combined time of 1 minute 42.33 seconds to finish second behind double Olympic Champion Francesco Friedrich on the fastest track in the world.
They were second fastest starters in Run 1 and the quickest in Run 2 in what was Lawrence's first ever top tier 2-man competition as they built on the six World Cup medals Hall and his team won across 2-man and 4-man races last season.
Taylor Lawrence & Brad Hall started their season with a podium place
The field was smaller than normal but it still featured four of the top five sleds from the Beijing Olympics nine months ago, with back-to-back 2-man and 4-man champion Friedrich, Olympic silver and bronze medalists Johannes Lochner and Christoph Hafer and Switzerland's Michael Vogt, who finished fourth in China, all competing in Canada.
Hall and serving Royal Marine Lawrence sat second at the halfway mark and maintained that position in Run 2 to finish 36 hundredths ahead of Lochner and 11 hundredths behind Friedrich at a venue that hadn't hosted a World Cup race for five years.
The result was a third medal in as many races for Hall and Lawrence having won 2-man silver and 4-man gold in the North American Cup races in Whistler earlier this month.
Hall and Lawrence race again in the World Cup 4-man event from 10.30pm GMT on Saturday, with Greg Cackett and debutant Arran Gulliver joining them at the same venue.  
The circuit then moves on to Park City, Utah, followed by Lake Placid in New York State, with the European leg of the season coming after Christmas.