Hall & co seek more of the same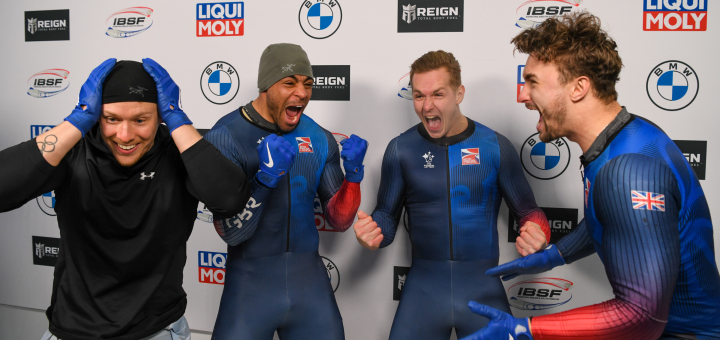 Brad Hall says he and his team want to keep the momentum going all the way to the World Championships and beyond after a stunning silver and gold medal winning performance last weekend.
Hall won 2-man silver with Taylor Lawrence in Altenberg on Saturday before grabbing glory with Lawrence, Greg Cackett and Arran Gulliver in the 4-man on Sunday.  
That makes it eight medals across just five race weekends but Hall wants even more as we get towards the business end of the season.
"Fingers crossed we can keep the momentum going and win a few more gold medals - we want to challenge every single week," said Hall, whose team are currently on course for the best men's non-Olympic season in British Bobsleigh history.
"We've got another race here in Altenberg before the World Championships, with this race doubling as the European Champs. We want to win a European Championship medal to take with us to the Worlds.
We want to win an overall World Cup medal as well because that's not something a GB team has done for a long time.
"We know our potential and we know there's more to come if we keep putting the work in."
GB's start times have been sensational this season
Hall's brakeman, Greg Cackett, described Saturday and Sunday in Germany as 'pretty special' and Britain's leading pilot echoes that sentiment.
He knows how hard it is to beat the Germans on home ice - and particularly in Altenberg - and that makes their latest medal-winning exploits even more memorable.
"To finish first in Altenberg is an amazing achievement," added Hall, whose previous best at a track affectionately referred to as 'Altensmash' by athletes all around the world was seventh last season.
"The guys performed really well all week. I had two great drives in the 2-man and Taylor produced a top-two start time on one of the hardest push tracks in the world. 
The guys then gave us the fastest start on the Sunday in the 4-man. That's only a few hundredths of the fastest start ever on one of the toughest start profiles around so that fills us with a lot of confidence for the next few weeks.
"Altenberg is definitely one of the hardest tracks to win at and it could have been more comfortable if I'd have got the bottom part of the track right.
"It shows that we've got more improvements to make and the potential to be better. My predictions for the races were second in the 2-man and first in the 4-man so we did exactly what I predicted!"
Hall and co go again in Altenberg this Saturday (2-man) and Sunday (4-man), before driving across to Switzerland for the showpiece event of the season on January 28 and 29 (2-man) and February 4 and 5 (4-man).