Hall & co keen to kick on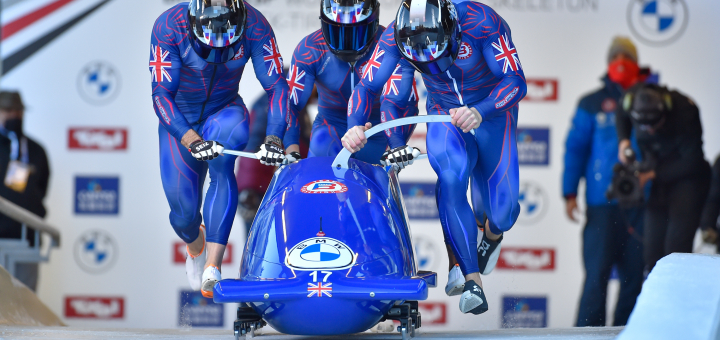 Brad Hall and his crew are aiming for more of the same when the World Cup bobsleigh action continues in Austria this weekend.
Hall won World cup bronze with Greg Cackett in the 2-man in Igls last Saturday and followed it up with silver alongside Cackett, Nick Gleeson and Taylor Lawrence in the 4-man on Sunday for the best British start to a season for as long as we can remember.
With the Olympic Winter Games now just over two months away, Sam Blanchet comes into the team for this week's 4-man competition in place of Gleeson, with Gleeson replacing Cackett in the 2-man.
Paratrooper Gleeson, who finished joint fourth with Hall at the 2019 World Championships in Whistler, now wants the team to kick on as they continue the build up to February's showpiece in China.  
"Last week was a great start to the World Cup season and now we want to keep that momentum going all the way to Beijing," said Gleeson, who became the country's youngest ever Olympic bobsledder in PyeongChang in 2018.
"We showed we can challenge in 2-man and 4-man so the next aim is to do that consistently.
No one's getting carried away and we're definitely not taking anything for granted just because we're at the same track this week. It's a clean slate for all the teams and we know we're not owed anything just because we nailed it last week.
"Saying that, confidence is really high, not just because of the results last weekend but because we know what kind of shape we're in and how hard we all worked over the summer to get to this point.
"For me personally, I have the 2-man ahead of me this weekend which, after last weekend's results in the 2 & 4 man, has definitely set a very high standard in this team and I'll run my little legs off to keep it that way. Our aim is to stay as high up the leaderboard as possible as this will only benefit us towards the Beijing Olympics."
Lamin Deen and his team will join Gleeson, Hall and co in the men's races as they look to improve on last week's efforts in the second of eight World Cup competitions in this Olympic season.
Deen goes with Toby Olubi in the 2-man at 1pm GMT on Saturday before Joel Fearon and Ben Simons join them in the 4-man 24 hours later. Deen and Simons were 23rd in the 2-man before finishing 21st alongside Fearon and Olubi in the 4-man in Week 1.
Lamin Deen & Toby Olubi link up in the 2-man on Saturday
Mica McNeill kicks off the weekend's bobsleigh action in the mono bob at 9am GMT on Saturday before linking up with Adele Nicoll in the womens' bob at the same time on Sunday.
McNeill was 18th in the individual race and 16th in the team competition with Montell Douglas in Week 1.
Nicoll will make her race debut having been an unused reserve last season. The 25-year-old from Welshpool has been a bronze medalist in the senior British Championships in the shot putt for the past three years and has already qualified for the Commonwealth Games in Birmingham next summer. 
You can watch all of this season's World Cup racing via the International Bobsleigh & Skeleton Federation website and on their YouTube channel.
We'll provide updates via our own social media channels and we'll post a round up of results once they've come in.