Gold is unforgettable for Gulliver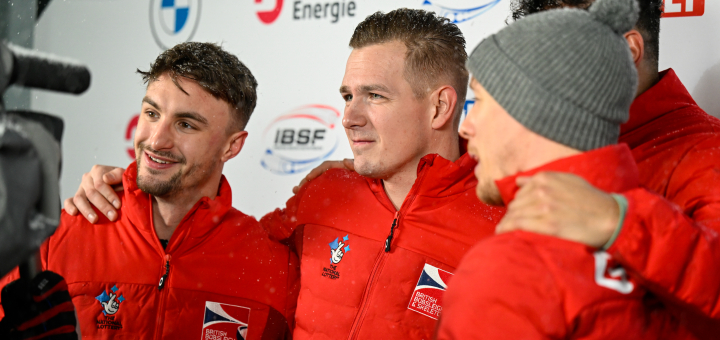 Arran Gulliver says winning European Championship gold on Sunday is a moment he'll never forget.
Gulliver secured the country's first ever bobsleigh continental crown alongside Brad Hall, Taylor Lawrence and Greg Cackett as the team made it back-to-back race wins in Altenberg, Germany.
It marks an incredible rise for the 25-year-old from Bewdley in Worcestershire, who hadn't even set foot in a bobsleigh until late October.
Gulliver only joined the British Bobsleigh programme via a talent ID session in the summer but he already has five World Cup medals to his name - including three gold - and now he and his team mates have done something no one else has ever done before.
"European Champions! How about that? I will never, ever forget this feeling and I'll never forget this day," said Gulliver, a graduate of Oxford Brookes University who postponed entry into the Police Force to concentrate on bobsleigh.
"It's been absolutely fantastic so far - both the start to life as a bobsledder and the weekend's race. With Sunday doubling up as World Cup and the European Champs, we got to hear the national anthem twice.
Looking at the flag and singing the anthem with so much pride is something I can't put into words.
"One of the best things about racing in Altenberg is the fans. There are so many people who come down to watch the racing. They seem to just really, really enjoy a great race. They're always screaming and shouting and cheering, and that's surreal - it's really special. 
"The whole thing's been special, to be honest. It's been beyond anything I could have expected when I first came down to Bath. The guys have been amazing. They've made me feel at home straight away and I think you're seeing that in our results."
The team have produced some sensational starts this season
Gulliver and co had little time to celebrate their European crown as they're currently in St Moritz for another huge event.
The World championships begin on Thursday when British Skeleton take to the ice in Switzerland, with the 2-man bobsleigh race scheduled for this Saturday and Sunday before Gulliver goes in the 4-man the following weekend.
GB head to Moritz in great spirits, thanks not only to the results they've been having but also due to the start times they've been producing.
Despite only racing together for the first time in November, Gulliver, Hall, Lawrence and Cackett have never been outside the top three starters in six races and 12 heats so far this season.
They've been inside the top two in all but one of those heats and have been the quickest off the top in the second run of the latest four races, showing they have a knack of producing when the pressure is at its greatest.
"As a team, we out pushed our first push by six hundredths in the second run on Sunday - that shows we can make a change and perform in the biggest moments," added Gulliver.
"We identified little bits that we wanted to work on in the start and we fixed them. We know that's what we can do - every time there's something to be worked on, we've got the confidence to break it down, analyse it and fix it.
In the second run, we nailed it, bang on, fastest push start. That's been a trend this season and that's a great thing going forward.
"We've had three weeks in Germany now and we've come away with one silver medal, two gold medals and a European Championship in the 4-man. You can definitely see where things are going. 
"The momentum's building and we're all in a great place. We all trust each other and the vibes are really good so let's see what we can do in St Moritz."