Fulker adds to superb start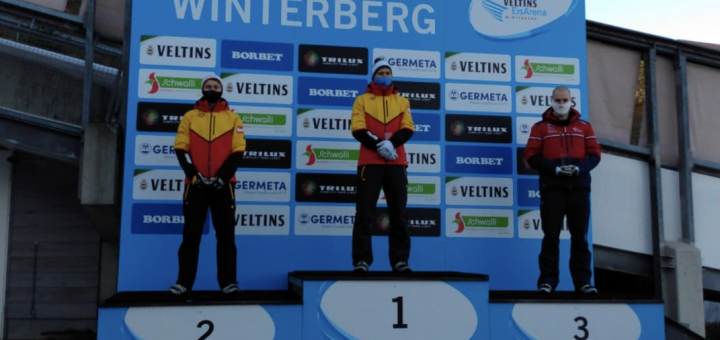 The British Skeleton team's superb start to the season got even better on Saturday as Benji Fulker won Europa Cup bronze in Winterberg.
Just 24 hours after Marcus Wyatt won the country's first Men's Skeleton World Cup medal for seven years, Fulker claimed his maiden podium to make it two medals in as many days at the start of the new season.
Fulker, who finished seventh in the EC opener on Friday morning, ended a German monopoly on the medals as he became the only non-home slider to make the podium over a brace of men's and a brace of women's back-to-back races.
The 24-year-old serving member of the Royal Air Force clocked a combined time of 1 minute 52.33 seconds to beat Friday's race winner, Felix Seibel, to bronze by 36 hundredths of a second.
It was Fulker's first medal in nine races since his debut in December of last year and it was made even more remarkable by the standard and experience of the opposition. Saturday's race winner, Killian Von Schleinitz, made his international debut more than five years before Fulker; has featured at 13 World Cup events; raced at two World Championships; and won an incredible 30 medals on the EC and Intercontinental Cup circuits, while Siebel has 13 medals to his name and is the reigning Junior European Champion and Junior World Championship silver medalist.
Fulker was up against 22 athletes in total at a track where he had only raced once previously - a 24th place finish just shy of 12 months ago. 
Fellow Brits Jacob Salisbury, Rachel Hanagan and Laurence Bostock also impressed in the opening two races, with all three securing top six spots at least once over the two competition days.
Salisbury shone to finish fifth and sixth on his international debut, while Hanagan was ninth and then sixth and Bostock sixth and 12th in their second season of EC racing.