Former athletes encouraged to connect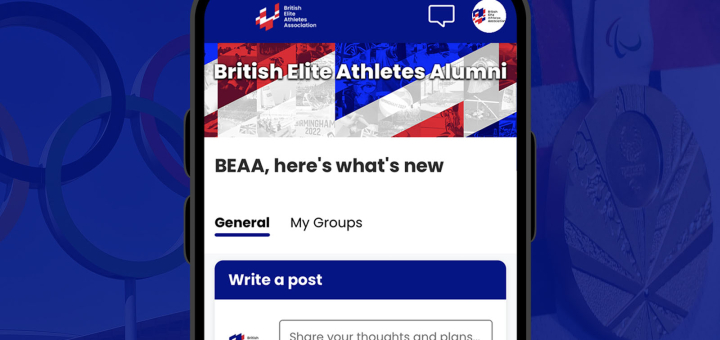 Elite British athletes - including bobsleigh and skeleton stars - formerly on the World Class Programme can now connect with one another across sports thanks to a new digital platform.
The pioneering service, launched by the British Elite Athletes Association (BEAA) with support from UK Sport and the UK Sports Institute (UKSI), enables World Class Programme alumni to link-up more easily than ever. 
The first of its kind to span all Olympic and Paralympic disciplines, it allows members to join and form communities based on their sports and mutual interests, share what they're up to, and reach out directly to fellow former elite athletes.
Research suggests that many athletes can struggle when stepping away from elite sport, and that maintaining a link with it, retaining their sense of identity and community, and having access to support and mentors can prove crucial in their transition. The platform enhances the sporting system's existing support, and forms part of the BEAA's aim to unite the athlete community. 
Users have access to career advice and opportunities, presented by Life After Professional Sport (LAPS), as well as a directory of useful organisations - and there's more planned, such as a mentoring project, online events and exclusive benefits.
It can also enable referral to the UKSI Performance Lifestyle Futures team for athletes who are leaving a World Class Programme and may require individual support in their transition for a further two years. 
Double Olympian and BEAA CEO Anna Watkins said: "It's easy to have the blinkers on within your own discipline as an athlete, and to lose some of your sense of togetherness and belonging once you retire.
The BEAA's new platform is a major way for former elite British sportspeople to connect with one another and maintain their lifelong association with elite sport, find athletes with similar interests, and link-up with likeminded people who have similarly unique experiences.
"Nothing as comprehensive as this has ever existed exclusively for former elite British athletes, so I'm delighted we're able to provide the platform as part of our ongoing commitment to representing the community.
"The BEAA stands for athletes at every stage of their career, and can now provide a home to meet, connect and develop as a collective. I'm already enjoying interacting with fellow ex-athletes, and really hope others benefit from the new platform."
Sally Munday, UK Sport CEO, said: "UK Sport is committed to ensuring athletes are supported both on and off the field of play, during and after their careers in Olympic and Paralympic sport. As part of this, we encourage opportunities for athletes from across the high-performance community to connect with each other throughout all stages of their career and beyond.
"We're pleased to have been able to work with the British Elite Athletes Association in the development and launch of this new platform. We're excited to see how former athletes use it to build connections, share their experiences and strengthen ties across the high-performance sporting community, allowing them to remain part of the community after they have stopped competing."
UKSI Head of Performance Lifestyle, Jo Harrison, said: "We are pleased and proud to collaborate with the BEAA to see this exciting development in how we continue to engage and support the world class alumni community. This new platform offers amazing opportunities to connect, share experiences and seek support and we look forward to this evolving further as it responds to the needs of the community."
Who is it for and how can they join?
To keep the platform private and exclusive, eligible alumni will have: 
Been on UK Sport's World-Class Performance Programme (for any amount of time) and/or;
Competed in a senior international competition for Great Britain.
Anyone unsure if they're eligible can email alumni@britisheliteathletes.org.
If you wish to join the platform and have not yet been contacted, please email alumni@britisheliteathletes.org.