Dukurs joins British Skeleton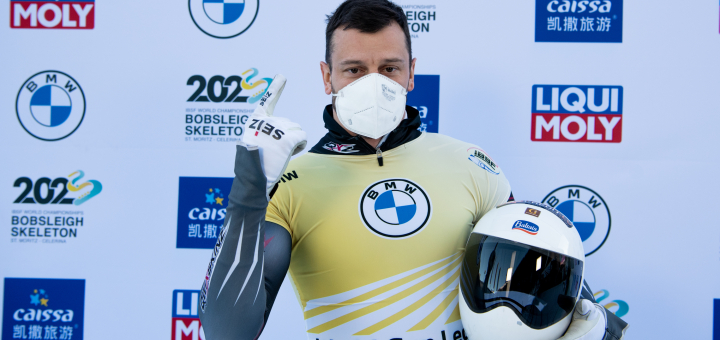 British Skeleton have secured the services of arguably the greatest skeleton slider of all time for the new Olympic cycle as Martins Dukurs joins the team as Performance Coach.
Dukurs won six World Championship titles, six European Championship crowns and 61 World Cup races over a two-decade long career that is unlikely to ever be rivalled.
The 38-year-old Latvian has won the last three overall World Cup titles to take his tally to 11 in total and is the reigning European Champion, as well as a double Olympic silver medalist.
He has already linked up with the British team after announcing his retirement as an athlete earlier this week and will now turn his attentions to helping this country's sliders experience some of the success he achieved over the past 22 years.
"It's a huge boost to have Martins on board for the new Olympic cycle," said Natalie Dunman, Performance Director for British Skeleton.
Martins is widely regarded as the greatest slider the world has ever seen and the things he has achieved in the sport are nothing short of incredible.
"He was understandably in high demand so we are absolutely delighted that he has chosen to buy into what we are trying to achieve and begin his coaching career with us.
"I know that his experience and expertise will rub off on our athletes and our staff and we've already seen aspects of that in the time he's spent with us so far in Bath.
"The start of a new Olympic cycle is always exciting but there is no doubt that bringing Martins into our team is adding to the buzz about what lies ahead this winter and on the road to Milan Cortina."
Martins Dukurs is the world's most decorated slider
Dukurs' retirement came on the back of the Beijing Olympics - his fifth in total - and after a World Cup season in which he was still at the very top of the sport.
He won nine of his last 17 World Cup races and medalled in five more but is convinced now is the right time to move into coaching and that Great Britain is the perfect team to do that with.
"Retiring wasn't a one-day decision. I'm 38 now so, although I was always taught to never give up, maybe now it's smarter to do that! And the opportunity to join such a great team came at the perfect time," said Dukurs.
"If I look simply at history of results, no one has achieved what Great Britain has, even a big nation like Germany. They've achieved this without a track, too. That means that the system is a good one.
There is some great potential with the athletes and I like everything that I've seen so far and how things are done. I can see the structure and all the planning and I can see that it isn't just guesswork.
"We have athletes here with good experience on the tour - athletes who were beating me and I was beating them. They have really good potential to get better and achieve big things. I see that they work hard and they have good plans and big targets and I hope that I will be able to help them reach them."
Dukurs stood on the podium with GB's Matt Weston in December 2020
The international skeleton season begins in November, with the World Cup season kicking off in Whistler, Canada, before heading to Park City and Lake Placid in the United States prior to Christmas.
Three more World Cup races follow in Germany in the New Year, with the season showpiece, the World Championships, scheduled for St Moritz in late January. The top-tier calendar concludes with two more races in Igls and Sigulda in February.