Douglas honoured to make history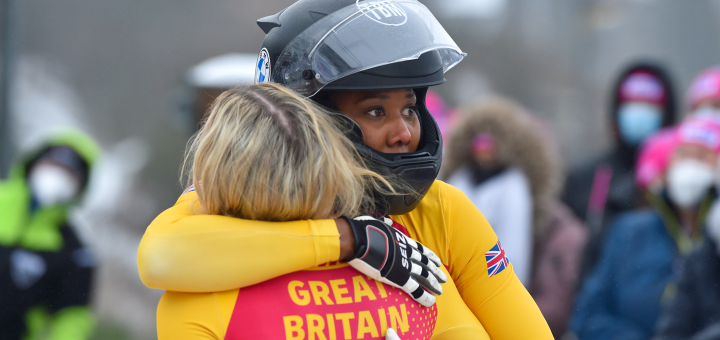 Montell Douglas says she is 'overwhelmed, honoured and blessed' having made history after becoming the first woman selected to compete at both a Summer and Winter Olympics.
The 36-year-old was picked as Mica McNeill's brakewoman for the Beijing Winter Games some 14 years after racing for Team GB in the 100m and 4x100m relay in the Summer showpiece in the same city.
Douglas will take to the start line with McNeill on Friday 18th and Saturday 19th February and she hopes her achievement will inspire other women to chase their goals and take the plunge into winter sport.
"It feels incredible - I'm blown away. It's overwhelming but it's bizarre - and almost a relief - because this is the goal I've been working to," said Douglas, who made it to PyeongChang four years ago but never competed after being chosen as the team's spare behind Mica Moore.
"It's been a journey for me. Part of me staying in the sport and working for the last four years was to work towards that goal.
"I love the sport and the support I've had has been overwhelming. People ask why I do it, but if you can then why not?
To experience two different sports - which are polar opposites - is an incredible experience that I want to hold on to forever.
"Because there's no British female that's done it before makes it more worthwhile. I hope it will inspire a load of women into sport."
Douglas' story is certainly inspiring. She graduated from Brunel University a day after breaking the British 100m record - one that had stood for more than a quarter of a century; went on to feature in two World Championship finals and win Commonwealth Games gold in the sprint relay; and then switched to bobsleigh in 2016, since when she's twice finished just a single place off the World Cup podium and won Europa Cup gold alongside McNeill. 
Throw in the fact that she also works as a physical and well-being co-ordinator for Enfield Children and Young Person's Services and spent lockdown heavily involved with a local food bank and it's easy to see how Douglas' attitude and exploits could encourage others to be the best they can be, in whatever walk of life they choose.  
As for being her own best in Beijing, Douglas hopes to build on what McNeill and Moore achieved when creating history four years ago but she insists that her overall aim is to give it her all and head home proud of her efforts, whatever the outcome.
"It's been a whirlwind just even getting here," added Douglas, who suffered an injury setback before catching Covid at the very end of 2021.
"Now you go and do your best. Last time was British history with eighth place so anything better than that would be British history again. We'd be lying if we said that we wouldn't want to do that and move it on but, at the end of the day, results are never controllable. 
"Whatever we get, I'm hoping and praying that we'll be proud."