Development the focus on Friday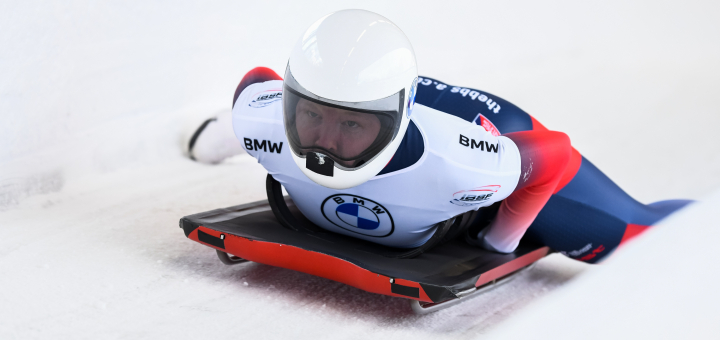 British Skeleton began the season in style in Latvia last month but it is athlete development rather than medal success that will be the focus in Austria this weekend and next.
Marcus Wyatt won the country's first men's World Cup medal for seven years just under a fortnight ago and Laura Deas twice recorded her best result for 21 months in the opening two races, while Ashleigh Pittaway produced a World Cup PB and Craig Thompson secured a top six spot in Sigulda.
But none of those four athletes will be racing in Igls this Friday and next as the opportunity to impress is handed to a group of sliders with far less experience but no shortage of potential.
Only 2018 Olympian Jerry Rice has more than three World Cup races under his belt, with Benji Fulker, Matt Weston, Brogan Crowley and Amelia Coltman all set to feature this Friday, before Jacob Salisbury replaces Fulker in the line up a week later.
Fulker and Salisbury are yet to make their World Cup debuts, while Coltman only made hers in the first week of the season and Crowley took her top-tier bow in the final race of the last campaign. Weston finished fifth in Race 1 on November 20 but that was only his second ever start at this level in what is just a second season of international racing for all bar Rice and Crowley.
Benji Fulker makes his World Cup bow on Friday
The decision to select a newer group of sliders for Igls comes from a philosophy of maximising performance and development opportunities and designing the best possible path to the Beijing Olympics in 2022 and the Milan Cortina Games four years later. The fact that the IBSF have suspended ranking points for the current season as a result of the Covid-19 pandemic also means there is less pressure to perform on a weekly basis and it allows Performance Director Natalie Dunman and the coaching team to look at what areas each individual should be focussing on and offer opportunities to taste the top circuit to those who may otherwise had to wait a little - or a lot - longer.
"We had a great start to the season in Sigulda. Marcus' medal was an obvious highlight as World Cup medals are hard won and we had some really impressive results across the board. But this season is all about creating the best path to success at the next two Olympic Games so that takes priority over getting results week in, week out," said Dunman.
"Because ranking points have been suspended for a season as a result of Covid-19, we've got a unique opportunity to race different athletes at different venues at different stages of the calendar.
That ability to move people across the circuits, means that the athletes who are focussed on the next Olympics can do what they need to do to be in the best possible position come Beijing and it allows us to speed up the development of the rest of the squad.
"Benji and Jacob will get their first taste of World Cup action over the next two weeks (Benji races on Friday and Jacob the following week) and that's a big step for both of them. Injury has meant Jacob only raced for GB at any level for the first time two weeks ago and Benji is only a year into his racing career. 
"But we've seen the impact that early opportunities can have on athletes if carefully managed with development in mind (Matt Weston impressed at the World Championships in his first race season and was fifth and 12th in Sigulda and Amelia Coltman looked at home on her World Cup debut despite only having nine races under her belt on the lower circuits). We think this approach works and we're excited by it."
So what does Dunman expect over the next two weeks? Does this approach mean that the athletes won't care about where they finish? Does it mean they're treating race day as just another training session? The answer is a resounding 'no' to both those questions, but it's combined with a realism as to where the athletes are currently at and an understanding that success doesn't come overnight.
"We want to see good results - we always do - but it's not the primary focus over the next two weeks. And a result that might not set the world on fire for people outside the camp might actually be a great return as far as we're concerned," added Dunman.
What we're looking for is progress. That could be in how they perform in the race itself but it could also be how they deal with the World Cup environment and the kind of additional external factors that go with a top-level race.
"We want to see how they cope mentally as well as physically and we also want to give them an understanding of the kind of improvement they need to go through to compete with the best in the world over the next few years.
"We're not expecting the same level of results that we had in Sigulda but we are expecting every one of them to be a better athlete for the experience."
Fulker, Rice and Weston take to the ice at 9.15am GMT on Friday, with the women's race following at 1.15pm.
Having been deselected from the World Class Programme at end of last season, Madelaine Smith joins Crowley and Coltman for her first race of 2020/21 as she targets qualification for Beijing 2022. The same trio will also race the following week, with the circuit then taking a break for the Christmas period.
Race Schedule
All times are GMT
Fri 11 Dec
Men's Skeleton 9.15am 
Women's Skeleton 1.15pm