Development Squad set for next step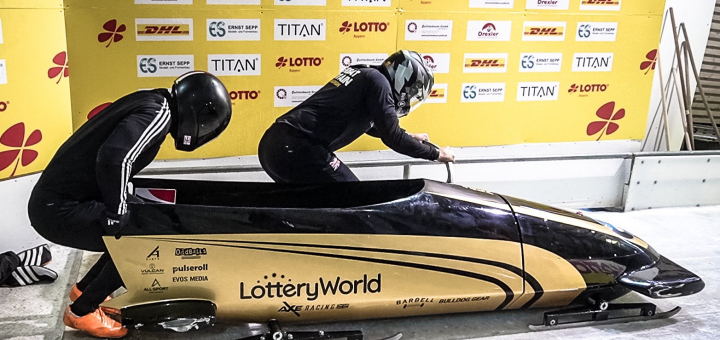 A handful of GB Development crews take to the ice this weekend as they look to showcase their bobsleigh abilities on the international stage.
All bar one of the five pilots competed for Great Britain in IBSF races last season and the fifth - John Stanbridge - slid as a brakeman for New Zealand.
Axel Brown was a regular on the North American Cup circuit after making the switch to the front seat, while Adam Baird, Felicity Bee and Jo Ellett competed in the Europa Cup and all have repeatedly spoken of their pride of representing their country on the ice.
They do that for the first time this term on Saturday and Sunday as they compete against strong Europa Cup fields in Winterberg, Germany, with double Olympian Lamin Deen also racing for GB.
And, while results are always a good marker for any athlete, coach Rob Hinton acknowledges that, most importantly, this weekend is another step in their development. 
"The Development Squad has an array of different personalities from across the three military services and the civilian world and each of them is focused on reaching the highest level of sliding and, eventually, representing GB on the World Cup circuit," said Hinton.
They trained hard throughout the summer and they've shown a great deal of dedication just to get out here.
"Having developed physically to meet the minimum fitness level requirements, they've had a good couple of weeks training on the ice and now they find themselves competing against other nations on the junior international platform. 
"They're looking forward to that challenge and I'm looking forward to seeing them continue to develop."
John Stanbridge and Alex Cortes-Tankard team up this weekend
The squad begin their season with a 2-man race on Saturday, with women's bobsleigh scheduled alongside a second 2-man competition on Sunday.
Brown, who competed as a brakeman on the World Cup circuit prior to moving behind the D-Rings, will be partnered by Adam Hames on Saturday, with Baird and Stanbridge initially being pushed by Dave Coleman and Alex Cortes-Tankard.
In the women's competition, Felicity Bee teams up with Emily Barrett and Jo Ellett joins forces with Mel Haslam.
All of those competing have worked hard to secure the financial backing required to get out on circuit and Hinton hopes they show their potential over the next couple of days. 
"They've built a good team ethos and they've put a lot of time and effort into just getting to this stage," added Hinton, who has an extensive bobsleigh background, both as a coach and as an athlete within the military and national set ups.
"Some of our crews are fortunate enough to have secured good financial backing allowing them access to really good equipment, while others are sliding on slightly less competitive kit - but this hasn't deterred them from giving everything at every session.
Winterberg is widely acknowledged as one of the less technical tracks, whilst still having the capability of catching people out. Some of our teams have experienced this in training but, in the good old-fashioned spirit of bobsleigh, they get straight back on the horse and improve on the next Lauf.
"I hope that one or more of these crews can progress to higher international honours in the not-too-distant future and this weekend is another important step on that journey."
Europa Cup Race Schedule
All times are GMT
Sat 5 Dec
2-man Bobsleigh 12pm
Sun 6 Dec
Women's Bobsleigh 9am
2-man Bobsleigh 9am