Deen ends outstanding career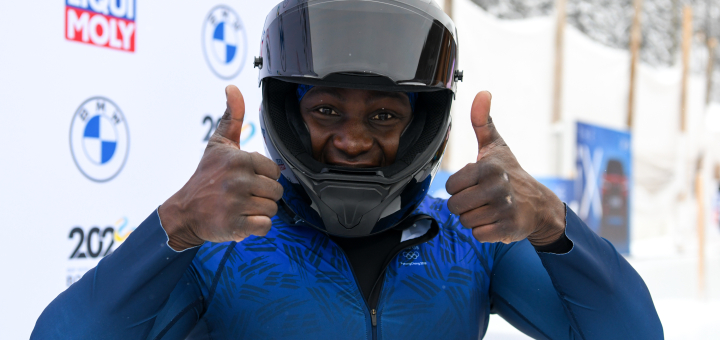 Double Olympian Lamin Deen has announced his retirement from bobsleigh after a stellar 15 years in the sport.
Deen steps away from sliding having made just shy of 250 appearances for Great Britain, including exactly a century of World Cup starts, between November 2006 and January 2022.
He wrote his name into the history books when he won World Cup gold with Toby Olubi, Ben Simons and Andrew Matthews in Whistler in 2017 - a race in which he also set a then-world record speed of 97mph.
The 41-year-old competed at the 2014 and 2018 Olympic Winter Games, finishing 19th in the 2-man and 23rd in the 4-man in Sochi and 18th in the latter in PyeongChang.
"I'm retiring with a smile on my face as I've had the opportunity to meet so many amazing people while competing in such an amazing sport," said Deen, whose last race came at the home of sliding in St Moritz 10 months ago. 
"Attending two Olympic Games and multiple World Championships are massive highlights but the biggest achievement is probably winning that World Cup race in Whistler while setting the world's fastest time - that's something I'd always wanted to do.
As I grew up in the sport, I wanted to do three things as well as compete at the Olympics: I wanted to win a race, be the fastest, and set a track record - and we did that in Whistler.
"Bobsleigh's been a huge part of my life over the past 15 years. I can't really explain my admiration for people who voluntarily run off the tops of icy mountains in the pursuit of continuously going faster and faster so I'm grateful I've been able to be around so many of them!
"Huge thanks to my team-mates, competitors, coaches, officials, staff and everyone at British Bobsleigh & Skeleton for their support along the way and best of luck to everyone on the road to Milan Cortina."
Lamin Deen led GB to World Cup gold in Whistler
As well as winning gold in Whistler in 2017, Deen won World Cup bronze in Lake Placid in 2016 with Matthews, John Baines and Joel Fearon.
He represented his country at no fewer than eight World Championships, placing fifth alongside Simons, Matthews and Bruce Tasker in Winterberg seven years ago, and won 15 gold, silver or bronze medals in all after moving from brakeman to pilot early on in his career. 
"It is hard to overstate what Lamin has achieved during his time in bobsleigh and the impact he has had on the sport, both nationally and internationally, over the past 15 years," added British Bobsleigh's Performance Director, Mark Silva.
His was an exemplary career - one in which he defied the odds on numerous occasions and competed at an elite standard for an extended period of time.
"He delivered consistently and showed the same desire to succeed and excel when the sport in this country was both funded and unfunded.
"That World Cup win in Whistler will live long in the memory and Lamin's name will always be associated with that incredible success. He should be immensely proud of his achievements on and off the ice and we wish him all the best for his next chapter in life."
Currently a sergeant in the Grenadier Guards, Deen has represented the Army in boxing, basketball and athletics as well as bobsleigh and is scheduled to complete 24 years of service this summer. He has a long-held interest in business and entrepreneurial activities and intends to pursue those after calling time on his life in the front seat of a bobsled.