Deas & Pittaway talk one year to Beijing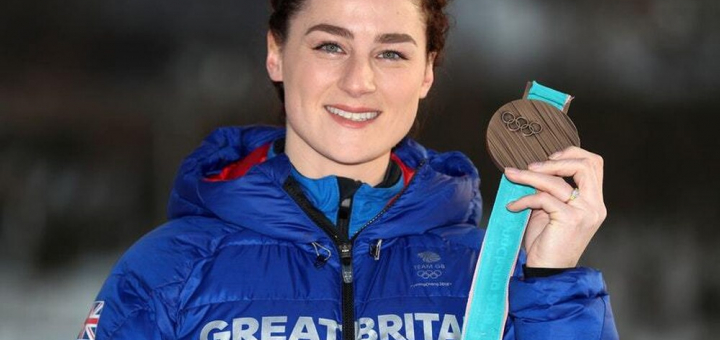 Today marks one year to go until the Olympic Winter Games in Beijing and British Skeleton stars Laura Deas and Ashleigh Pittaway admit it's a milestone that has come around quicker than expected. 
Deas, who won Olympic bronze in PyeongChang three years ago, and Pittaway, who took the Youth Olympic title in Lillehammer in 2016, are both in a strong position to qualify for the global showpiece in February 2022.
And if they do make it all the way to the greatest show on earth, they'll be taking part in the opening ceremony on this day next year - a moment that Deas loved last time out and one that made her finally realize just how big getting to an Olympic games actually is.
"The opening ceremony was completely mind blowing," said Deas, who stood by team-mate Lizzy Yarnold as the reigning Olympic Champion carried the Union flag into the arena in PyeongChang - a position she'd also take just over a week later when the pair shared the podium after an historic double medal day at the Alpensia Sliding Centre.   
"That's the first time you truly appreciate where you are and what you're doing. That's when it hits you. 
Up until that point, it's all about logistics and travel and training. But when you put all the kit on and walk out behind the Union flag, that's when you think, 'Oh my God, I'm at the Olympics and I'm representing my country - this is actually happening'. I'm looking forwad to hopefully being able to do it again.
Laura Deas loved the opening ceremony last time out
"Being a year out from Beijing definitely makes it feel more real. I remember this time in the last cycle thinking I'm never going to be ready in a year! I then remember panicking at the end of 2017 that I wasn't ready for it to be 2018!
"It's really easy to get pulled in different directions and get distracted by things that aren't that important when you really think about it. So sticking with the processes for the things that will actually make a difference over these 12 months is really important.
"I guess if I've learned anything from that experience it's that you're more prepared than you think you are. You can't get overly stressed about it - you don't want to get distracted by the noise but you just have to try and enjoy the experience because it goes so fast." 
Those sentiments were echoed by Pittaway, with the 20-year-old seeing her thought process right now as similar to her more experienced team-mate's back in 2017.
The former A-Level student, who won Junior World Championship bronze last month, is fully aware of the enormity of the Olympics and the importance of the next 12 months but she also knows deep down that both she and the team as a whole are in a really good place to be at their best in Beijing.
"Like Laura said, part of me doesn't feel ready right now, but then you can never really be fully ready - it's about concentrating on what you can influence and just trying to get better all the time," said Pittaway.
"This season's been a good learning experience. Not having ranking points means I've been able to remove myself from the short-term goals and just be like, 'Okay, the results don't really matter as much this year as long as I improve and develop'. It's helped me focus on the longer-term goals - like Beijing.
The Olympics has definitely always been a dream, but it's also something that's evolved over time for me.
"I never thought I'd even get to the Europa Cup, let alone World Cup or be in the mix for the Olympics."
Ashleigh Pittaway won Youth Olympic gold five years ago
But, while Pittaway hasn't yet been to a senior Olympic Games in person, she already feels like she's had a little taste of what could lie ahead in 365 days' time.
Pittaway was in camp in Germany with the majority of the British Skeleton squad this time in 2018 and she says watching her friends win gold and bronze from afar was an experience she will never forget. 
"We were in Konigssee when Laura and Lizzy were in PyeongChang and I'd raced a few hours before they did.
We rushed back to see the final heat and it was super emotional for all of us. 
"Even though we weren't there, we felt as though we were all part of the journey. It felt like a win for all of us!"