Dasaolu to make World Cup debut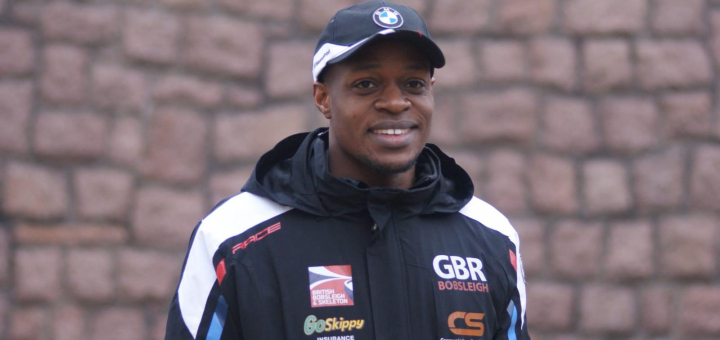 James Dasaolu makes his World Cup debut this weekend as he steps up his switch from sprinting to bobsleigh.
Dasalou, who is the second fastest Briton of all time, will race alongside double Olympian Lamin Deen in back-to-back 2-man events in Igls this Saturday and Sunday.
Having made his international bobsleigh debut in the opening Europa Cup race of the season last week when he and Deen finished 11th in Winterberg, he now moves up to the top tier just a few weeks after he first stepped into a sled.
The former European 100m Champion, who boosts a personal best of 9.91 seconds, has already competed at successive Summer Olympics in 2012 and 2016 and is now targeting a place at the next Winter Games in Beijing in 14 months' time.
Brad Hall and Mica McNeill join Deen in piloting GB 2-man/2-woman sleds in Austria, with McNeill also competing in the women's monobob on Saturday afternoon.
While Deen opted to sit out the first two World Cup races of the season in Sigulda in favour of extra ice time and the EC opener, Hall missed out with an ankle injury and McNeill was prevented from featuring after a member of support staff tested positive for Covid-19.
McNeill teams up with Montell Douglas - another summer Olympian, who was the reserve athlete for Team GB in PyeongChang just under three years ago - while Hall will be pushed by Nick Gleeson in Saturday's race and Greg Cackett in Sunday's competition.
Cackett and Hall won an historic World Cup silver at the same track in January of this year, while Gleeson and Hall equalled the country's best 2-man World Championship result for more than half a century the last time they teamed up in Whistler in February 2019.
You can watch all of this season's World Cup racing via the International Bobsleigh & Skeleton Federation website and on their YouTube channel.
We'll provide updates from the races via our own social media channels and we'll post a round up of results once they've come in.
Race Schedule
All times are GMT
Sat 12 Dec
Women's Monobob 9am
2-man Bobsleigh 1pm
Sun 13 Dec
Women's Bobsleigh 9am
2-man Bobsleigh 1pm