Consistency the key for McNeill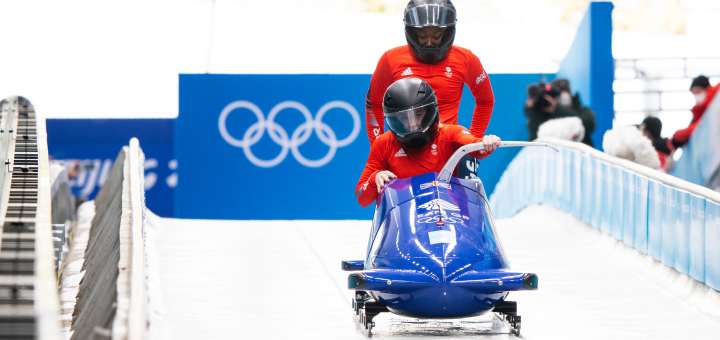 Mica McNeill knows consistency will be key as she and Montell Douglas begin their chase for British history in Beijing on Friday lunchtime.
The pair are focussed on four strong pushes and four solid drives when they compete in the women's bobsleigh as the Olympic Winter Games enter the final three days of competition.
The Chinese track has repeatedly shown that minor mistakes will be punished so, rather than fix her gaze on the podium, McNeill is instead aiming to produce her best run after run knowing that the rest will take care of itself.
"Everyone's going to be striving for a medal but we'd be so proud to walk away with four amazing pushes, four amazing drives," said McNeill.
We have spent four years, and particularly the Olympic year, preparing for this one race. To walk off that ice and say we've given it everything, that's what we want to feel.
"We came to the test event in October and spent a lot of time learning the driving lines, getting the track gradient for the push, testing runners, testing set-ups. You just have to trust that you've done everything you can now and go out and perform.
"There are so many elements in bobsleigh and you need to put everything together to get that result we want."
Mica McNeill is competing at her second Olympics
Douglas has already made history by becoming the first British woman to be selected for both a Summer and Winter Games but the history they are chasing now is to better McNeill's brilliant result from the last Olympics four years ago.
McNeill recorded the country's best Olympic showing in the women's event when she finished eighth alongside Mica Moore in PyeongChang and she would love to beat that this time around.
"We have spoken about it and we want to go out there and make British history again," added McNeill, who insists teamwork will be vital if they are to achieve that aim.
We did it in 2018 and it's something that we want to beat again. A lot of work has gone in over the past four years and we hope it's going to be reflected.
"We bring our own outlooks to the partnership but we're both just grafters. We've built a team together and we've become amazing friends over the last five years.
"I'm very confident and excited to get out there and show what we can do."