Career best for Craig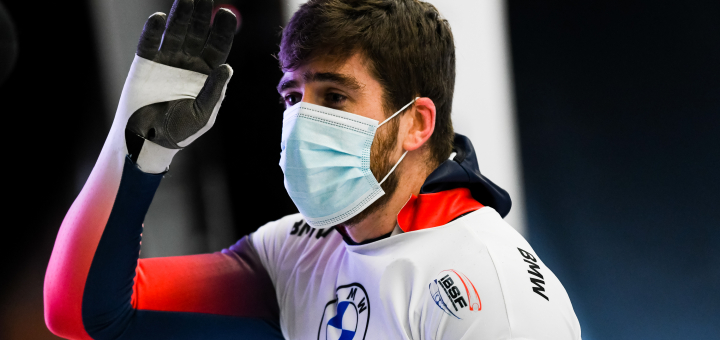 Craig Thompson continued Great Britain's strong start to the skeleton season with a career-best fifth in Winterberg on Friday.
The team ended 2020 with two World Cup medals to their name and they weren't far off adding to that tally at the start of 2021 as Thompson finished 36 hundredths behind home favourite Alexander Gassner in third.
The 28-year-old placed sixth and seventh in the first two races of the season in Sigulda and, despite sitting out the last two events in Igls in December, he went even better in the first race of the new year as he clocked a combined time of 1 minute 52.93 seconds.
Thompson sat sixth after the first run before producing the second best start in the field on his way to the fourth fastest down time in Run 2. The result beat his previous best of sixth - a feat he first achieved in Igls just under 12 months ago and then matched in Sigulda in the season opener.
Marcus Wyatt, who won World Cup bronze in Sigulda in Race 2, finished 13th in the men's race, while Benji Fulker was a creditable 14th in the 25-strong field on just his second World Cup start.
Russia's Alexander Tretiakov took gold and, with the race doubling as the European Championships, claimed the continental crown for the second time, some 14 years after his first triumph.
Latvia's Martins Dukurs was second – the first time he hadn't taken European gold in 12 attempts.
In the women's race, Laura Deas led the trio of British entrants as she finished 12th in her first World Cup race since Sigulda. The Olympic bronze medalist was eighth at halfway but a tough second heat saw her drop down the standings.
Ashleigh Pittaway - who, like Deas, didn't race in Igls last time out - was 15th, with Madelaine Smith finishing 18th. 
In the men's race, the positions of the three Brits were the same in the European Championships as they were for the World Cup as the sliders from North America all finished behind them but, in the women's event, Deas placed 11th, Pittaway 13th and Smith 15th after all non-Europeans were removed from the standings for the continental competition.
The World Cup circuit now moves on to St Moritz in Switzerland before returning to Germany for Race 7 in Konigssee. The competition concludes in Igls, Austria, with the World Championships following in Altenberg, Germany in early February.