Bronze brace on Skeleton EC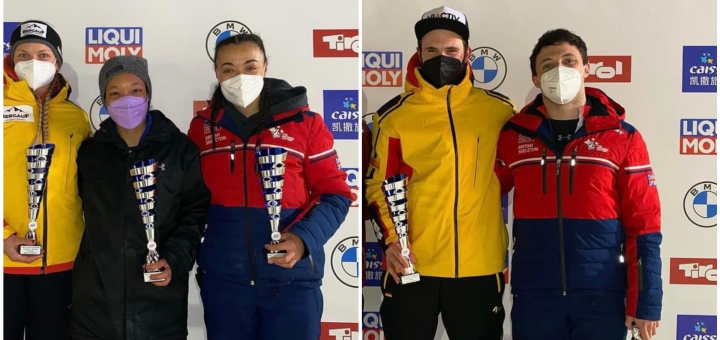 Success in today's skeleton action came on the Europa Cup circuit as Great Britain won a brace of bronze medals in Igls, Austria.
Having won men's World Cup gold for the first time in 14 years on the same track this time last week courtesy of Matt Weston, teammates Milly Kellyman and Jacob Salisbury finished third in their respective EC races this afternoon.
Weston was also in the medal mix on the top circuit at the halfway mark in Altenberg, but he slipped from fifth to 12th at the finish in Germany in a time of 1 minute 52.93 seconds.
The 24-year-old was 15 hundredths outside the medal spots after Run 1 as he threatened to back up last week's stunning triumph with a third podium in his first 10 World Cup races.
Run 2 proved to be half a second slower, though, and that cost Weston a top ten spot at one of the most challenging tracks on the circuit and the venue for both the 2020 and 2021 World Championships.
Marcus Wyatt placed 14th in the third World Cup competition of the season, with Craig Thompson 21st, as Germany's Axel Jungk took the win ahead of compatriot Christian Grotheer on home soil.
Laura Deas and Brogan Crowley came 21st and 24th in the women's race earlier in the day. 
Tina Hermann took top spot to ensure Germany won both the men's and women's events. With Francesco Friedrich unbeaten in both 2-man and 4-man bobsleigh so far this season and Laura Nolte having won both the women's bobsleigh races and medalled twice in the mono bob, a German clean sweep remains a real possibility heading into the weekend. 
Altenberg hosted today's World Cup action
Over on the EC circuit back in Austria, Kellyman's podium place came in just her sixth international appearance. The 28-year-old from Tamworth in Staffordshire finished in a time of 1 minute 49.29, nearly four tenths of a second inside the medal places.
Kellyman was a model of consistency despite her inexperience as she clocked 54.68 seconds from a 5.37 start in Run 1 and 54.61 off a 5.39 getaway second time around. Race winner Ro Mystique has been competing for three-and-a-half years longer than Kellyman and was taking her medal tally into double figures, while silver medalist Sarah Wimmer had made the podium eight times herself across both EC and Intercontinental Cup competitions.
"I honestly can't believe it," said Kellyman, who previously worked as a teacher.
I feel like I've been so close to a good result for the last couple of races, so I am over the moon that I was able to produce a good couple of runs and see it all come together in Igls.
Fellow Brit Freya Tarbitt recorded her best result of the season with an eighth-place finish, while Tabby Stoecker went one better on her GB debut, beating her teammate by one hundredth of a second in an overall time of 1 minute 50.23 after coming down fourth fastest in Run 2.
Milly Kellyman won her maiden medal in Igls
In the men's race, Salisbury secured the second medal of his career in just his second season of sliding as he clocked a combined time of 1 minute 46.26. The 26-year-old Chemistry graduate led by a narrow margin at halfway before eventually winning bronze ahead of multiple medalist Cedric Renner. Patrick Atkin finished 16th and Ronnie Wells 20th for GB.
Igls also hosted ICC races today, with Benji Fulker ninth, Laurence Bostock 10th on his circuit debut and Amelia Coltman 11th.
Both the EC and ICC Skeleton competitions head to Sigulda, Latvia next, with races scheduled for December 13th and 14th.