Brits win team silver & gold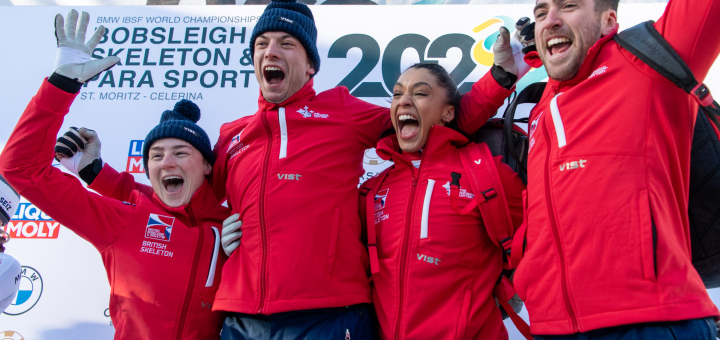 Great Britain won silver and bronze in the skeleton team event at the World Championships in St Moritz on Sunday morning.
Matt Weston and Laura Deas secured silver and Craig Thompson and Brogan Crowley bronze as GB took their medal to tally to three at the showpiece event of the season.
Weston won a first men's skeleton gold in 15 years for GB on Friday and he and Deas were on track for a second title before the final team pipped them to top spot in St Moritz.
Weston and Deas clocked a combined time of 2 minutes 25.04 seconds to finish 13 hundredths of a second behind Germany's Christopher Grotheer and Susanne Kreher. Grotheer won the individual title two years in a row before being dethroned by Weston, while Kreher was crowned women's champion two days ago.
Thompson and Crowley came down in 2.25.32 to finish 28 hundredths behind their team mates and 0.19 seconds ahead of the top Italian team, featuring men's silver medalist Amedo Bagnis in fourth. The result is a major plus for former footballer Thompson after the heartbreak of missinga. Medal by just one hundredth of a second in the men's race.
"It's another great result for us," said British Skeleton's Performance Director, Natalie Dunman.
To come away with two medals in this race and three in all is a great achievement. It's testament to the hard work all the athletes and coaches have put in since the spring.
"The team performed again when it mattered in what is a new event for us. Although we've had a couple of team events in the past, they'd changed the format but the athletes adapted brilliantly and were positive about getting on the podium.
"We would loved to have won gold - and we got so close - but silver and bronze is a great outcome in what's been a really positive season for us so far.
"To see two Union flags flying is a really proud moment for everyone involved."
There is more British interest in the 2-man bobsleigh this afternoon when Brad Hall and Taylor Lawrence will look to move up from fourth overnight. Runs 3 and 4 start from 1.30pm GMT.