Bostock & Salisbury secure 2 more medals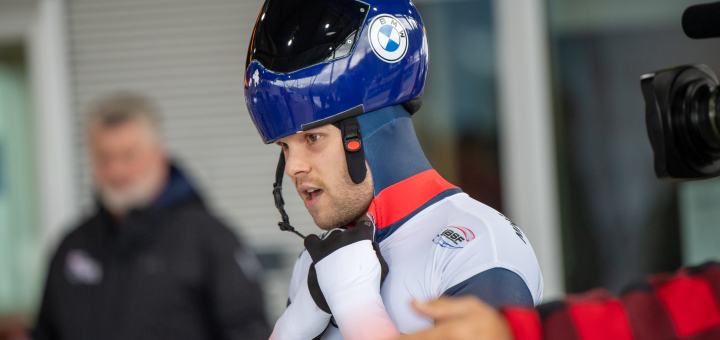 Laurence Bostock and Jacob Salisbury won Intercontinental Cup gold and bronze in Igls on Friday afternoon to cap a staggering few hours of sliding for British Skeleton.
Bostock won his maiden gold in the penultimate ICC race of the season, clocking the fastest effort in each heat on his way to a two-run time of 1 minute 44.62 seconds. 
Salisbury finished 0.24 seconds back as he claimed his fourth medal of the season after ICC bronze in Lillehammer and PyeongChang and EC bronze in Sigulda.
Bostock started the season competing on the World Cup circuit in North America before winning EC silver in Sigulda last month. Today's medal on the sport's second-tier circuit was the third of the 22-year-old's sliding career since making his debut in December 2019.
The double haul for Bostock and Salisbury took the team's tally to an incredible 15 medals in one day following previous World Cup success in Sigulda and earlier EC and Junior European Championship medals in Igls.
Matt Weston won World Cup gold and Laura Deas and Marcus Wyatt silver in Sigulda; Tabby Stoecker and Freya Tarbit won both EC and U23 Junior European Championship gold and silver respectively; Issy Fasnidge won U20 Junior European Championship bronze; and Amelia Coltman won ICC silver before Bostock and Salisbury took gold and bronze.
Weston and Wyatt also claimed overall season medals, winning World Cup silver and bronze, and Tarbit and Stoecker did the same on the EC circuit, winning gold and silver respectively.