Bob's back for Deen & Development crews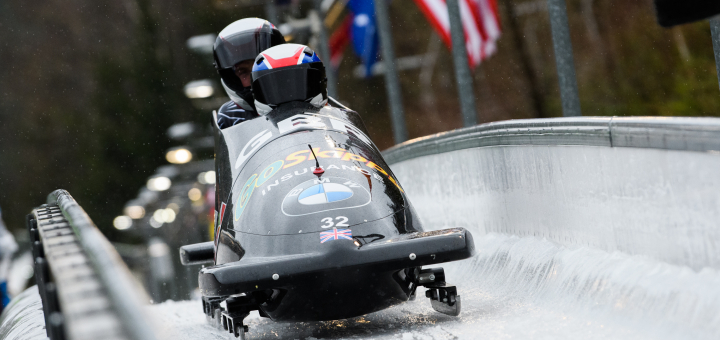 Skeleton has taken central stage at the start of the race season but we're now all set to see some bobsleigh action this weekend.
A combination of Covid-19 precautions and calendar choices meant there were no GB sleds in Sigulda as the British Skeleton team secured a World Cup medal and four more top six spots across the first fortnight of racing.
Brad Hall and Mica McNeill will race next weekend in Igls but Lamin Deen and five GB Development crews will take to the ice in Winterberg in Europa Cup competition this Saturday and Sunday.
For Deen, who is chasing his third successive Olympic Winter Games, this month marks 14 years since his international debut as a brakeman. The 39-year-old Grenadier guardsman has made more than 200 international appearances in that time, including 75 World Cup races; a similar same number on the EC circuit; 47 in North American Cup competition; and 12 at World Championship level across 2-man, 4-man and combined team events.
That experience will be vital this season as he welcomes newcomers James Dasaolu and William Sharman into a team that also features Olly Butterworth, Tremayne Gilling, Ryan Letts, Toby Olubi, Ben Simons and Olympic bronze medalist Joel Fearon. In stark contrast to their skipper, Dasaolu and Sharman only gained their first experience of the ice last month as they continue their transition from elite level athletics to bobsleigh with the aim of making it to the Beijing Olympics in 15 months' time.
"It's hard to believe it's been 16 years," said Deen. "It definitely doesn't feel that long!"
I'm still as driven as I was when I started, though - maybe even more so, to be honest. I'm also properly excited because I've got a really good team with me and I think we've got the potential to do really well in Beijing.
"We've got a good mix of experience and fresh faces in the crew and everyone's getting on really well. Summer training results have been really good and the numbers the guys are producing have been impressive.
"It's good to have Joel back after his year away with the Swiss and to be able to bring in new guys like James and Will, who are picking things up really quickly and desperate to do well."
Lamin Deen and his crew are all set for their opening race
Deen and co have been out on ice in Germany since the middle of last month, spending time in Oberhof and Altenberg before heading to the EC race venue in Winterberg last week.
They've made good progress and, although this year is about getting the best possible preparation for Beijing, Deen is confident they'll be able to combine that prep with some positive results.
"We've had some good ice time over the last few weeks and things are looking good. We got the whole squad out to Oberhof last month, where we got some of the newer members on to the ice for the first time. And they loved it!" added Deen.
"We had a really good testing session and then we moved over to Altenberg, where the World Championships are going to be held. We got some 2-man heats and 4-man heats in the bag and the guys who had never been on ice got several runs under their belts. 
"We've been doing some more pre-season here in Winterberg since then and that rolls into the Europa Cup race here this weekend.
After the race, we'll be going over to Innsbruck for the double 2-man World Cup races there and we'll then hit the World Cup hard with the 4-man after Christmas.  
"We've gone back to the record breaking 4-man sled this season (Deen hit speeds of 97mph in Whistler in November 2017). We've tried several others and I've decided to go back to what I know. We know it's fast and it's a sled we trust. 
"We're using this season to see what we need to upgrade for the Olympic season but that's going to be the sled that we think is going to bring us success. We've got some real pace in the crew, too, so I think it will prove to be a good combination."
This week's bobsleigh racing begins with the first of a brace of 2-man races at 12pm on Saturday, with the second 2-man race and the women's competition following at 9am on Sunday.
We'll preview the thoughts of the development set up later this week as Adam Baird, Axel Brown, John Stanbridge, Felicity Bee and Jo Ellett all pilot GB crews alongside Deen in North Rhine-Westphalia.
Europa Cup Race Schedule
All times are GMT
Sat 5 Dec
2-man Bobsleigh 12pm
Sun 6 Dec
Women's Bobsleigh 9am
2-man Bobsleigh 9am