Another stunning silver for Hall & co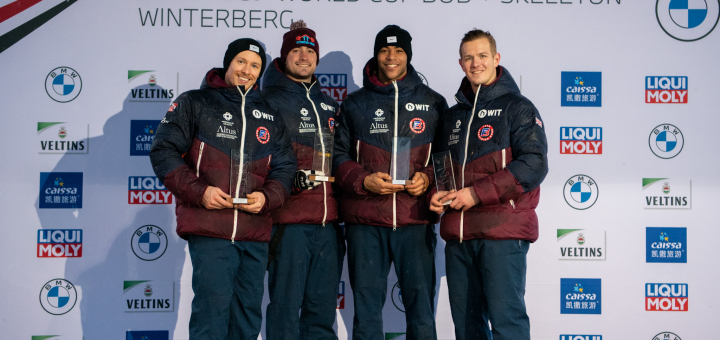 Great Britain's outstanding start to the Olympic bobsleigh season continued on Sunday as Brad Hall and his crew won 4-man silver in Germany.
Hall, Taylor Lawrence, Nick Gleeson and Greg Cackett clocked a combined time of 1 minute 49.68 seconds to finish second behind Olympic Champion Francesco Friedrich in the fifth World Cup competition of the season in Winterberg.
The Brits were again among the top starters in the 26-strong field, with times of 5.03 and 5.06 seconds the second and third fastest of their heats as they built on yesterday's fine fifth-place finish at the same venue.
It's the second silver medal of the season for the 4-man team following last month's superb showing in Igls and the fourth medal overall for Hall and his crew this season.
Hall began the campaign with silver in the 2-man alongside Cackett at the Olympic Test event in Beijing in October and the pair backed up that showing with bronze in Igls the day before the 4-man took silver.
"I'm incredibly proud of the boys," said Hall, who currently sits sixth in the overall 4-man rankings and fifth in the 2-man standings.
We had three world-class sleds breathing down our necks after the first run - they were just two hundredths, four hundredths and sixth hundredths behind us - and we knew we were under pressure.
"All I kept thinking about was the pressure of the fourth run at the Olympics and how would we respond. We responded by pulling out a brilliant push and I managed to get the sled down and secure a silver medal."
"What's so exciting for us was that today felt like a bit of a dress rehearsal for the Olympics - it was a 2-day race weekend and on the final run we brought out a huge start, bringing our time down by three hundredths and that was an unbelievable team effort," added Cackett.
Lawrence made his GB debut at the same track almost two years ago today in a Europa Cup race with Adam Baird and today's results was therefore extra special for the Royal Marine Commando.
"It was a really important race for me as it's two seasons on from when I made my debut here and it feels like we've come on leaps and bounds in that time," said Lawrence. 
Coming away today after a double 4-man race with a silver medal is something that's very special.
"I'm mega proud of everyone. Brad's driving was awesome and our pushing was top quality today."
Hall, Lawrence, Gleeson and Cackett have been outstanding this season
Lamin Deen, Sam Blanchet, Ben Simons and Joel Fearon finished 23rd in the same race in a one-run time of 55.44 seconds off a 5.15 start.
Benjamin Maier won bronze for Austria - six hundredths behind Hall and co – with Canada's Justin Kripps a further four hundredths back in fourth.
Mica McNeill and Montell Douglas were 18th in the women's race earlier in the day in a time of 1.55.16 as Laura Nolte, Mariama Jamanka and Kim Kalicki secured a German clean sweep of the medals.
The World Cup circuit now moves back to Altenberg for the final race of the calendar year, before a 2-man double header in Sigulda and a return to Winterberg prior to the circuit finale in St Moritz in mid-January.
The Olympic Winter Games take place in Beijing from February 4-20, with the 4-man bobsleigh scheduled for the final day of competition.