Seventh medal for Hall & Co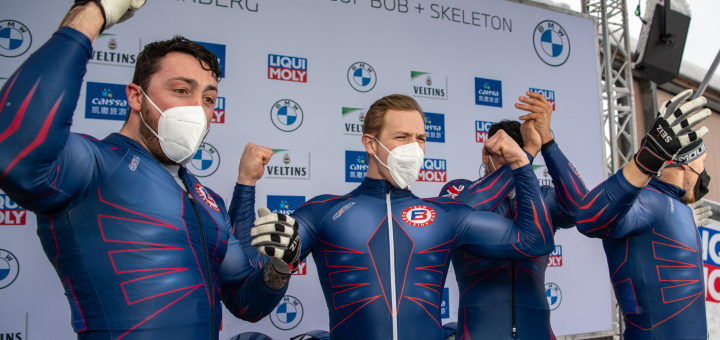 Brad Hall and his 4-man bobsleigh team continued their impressive run of form with another stunning silver in the penultimate race of the World Cup season in Winterberg on Sunday afternoon.
Hall, Taylor Lawrence, Nick Gleeson and Greg Cackett claimed a third 4-man medal and a seventh medal overall this season as they climbed up from fourth at the halfway stage in Germany.
They previously won 4-man silver in Igls in November and in Winterberg in December, with the 2-man team winning bronze in Igls and silver twice in Sigulda after starting the season with silver at the Olympic Test event in Beijing.
GB's No1 crew have now finished second, 11th, ninth, fifth, second, seventh and second in seven 4-man races this season, meaning they sit fourth in the world rankings ahead of next week's finale in St Moritz.
Hall and co are just 10 points behind Russia's Rostislav Gaitiukevich in third as they chase the country's first men's 4-man overall World Cup medal for 27 years.
"It was a great performance from the boys today: another silver medal to add to the tally," said Lawrence, who made his World Cup debut in Winterberg just two years ago almost to the day.
"It's great to do it in Winterberg - it's a track that we're starting to enjoy.
Having the first-ranked push means a lot to us, too. There's nothing better as brakemen than when you come down the bottom of the track and you see that No 1 next to your name. It fuels you for those next pushes and those next runs.
"Hopefully we can carry this momentum forward into Moritz and then into the Games."
Hall, Lawrence, Gleeson and Cackett clocked a combined time of 1 minute 49.5 seconds to finish behind perennial race winner Francesco Friedrich on the German's home ice.
They also met one of their season-long team goals in Run 1 as they went faster than Friedrich and his crew off the top, registering a start time of 5.09 seconds to set the quickest pace of the heat. 
That was followed by a 5.10 effort in Run 2 and an even greater velocity second time around as they moved ahead of Canada's Justin Kripps and Germany's Johannes Lochner to make the podium.
Hunter Church of the United States claimed bronze, with Lochner finishing fourth and Kripps fifth. 
Sunday was the seventh time Hall and his team have made the podium this season
Lamin Deen and his crew finished 17th in a time of 1 minute 51.22 seconds.
London 2012 Olympic long jump champion Greg Rutherford made his debut in Deen's crew, with Luke Dawes making his first appearance of the season and Same Blanchet completing the quartet.
Deen and co clocked start times of 5.38 and 5.29 seconds, with their improved start in Run 2 helping them move up a place from the 19th spot they held at halfway.
Earlier on in the day, Mica McNeill and Adele Nicoll finished 14th in the women's bobsleigh after a tough start draw at the same track.
The British pair would normally have welcomed being first off on fresh ice but snowfall made that early start a clear disadvantage and that saw them sit 16th after Run 1.
They fared better in Run 2 to jump up a couple of spots as they clocked 1 minute 58.66 seconds in a race won by Germany's Laura Nolte ahead of compatriot Kim Kalickie and America's Kaillie Humphries.
The teams now head to Switzerland for their final competition before the Olympic Winter Games in China next month.