Trio join Skeleton Talent Team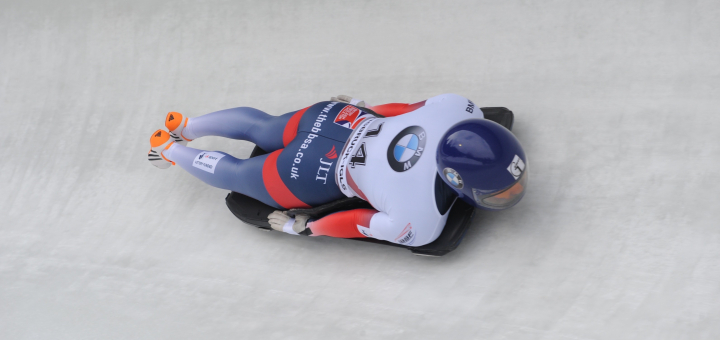 A trio of young athletes are hoping to follow in the footsteps of Olympic Champions Lizzy Yarnold and Amy Williams after earning selection for the Ignite sponsored Great Britain Talent Squad.
Philippa Brett, Stefan Squire and Hannah Stevenson beat off competition from dozens of other aspiring stars and they now have their hearts set on making a name for themselves in one of the country's most successful winter sports.
They start training with the rest of the GB Skeleton team early next month and will spend 10-12 weeks out on ice in their first year of a programme that has won an Olympic medal at every Games since its reintroduction in 2002.
And while they all know they have a long journey ahead, an Olympic Gold of their own is the ultimate aim for each of them.
"These three individuals have shown they have the potential to excel in our sport," said GB Skeleton Head of Talent, Mark Wood.
"They have demonstrated impressive physical and mental strength and shown they have a natural talent out on the ice.
"We have a proud history of developing young sliders within this programme and we are confident that Hannah, Philippa and Stefan will fulfil their obvious potential in the coming years."
"Their induction into the squad is part of an extensive and ongoing talent identification drive designed to ensure GB Skeleton keeps delivering podium performances at the highest level," added GB Skeleton Performance Director, Andi Schmid.
We are continually looking for fresh talent to increase the quality and quantity of our programme and we remain on the right track on the path to the Winter Olympics in PyeongChang, Beijing and beyond.
All three athletes began their journey into skeleton through UK Sport's Power2Podium initiative - a version of the same programme that has seen Yarnold and numerous others go on to represent GB with such success.
They join seven other members of the Talent Squad - all of whom enjoyed their first full season as part of the programme in 2015/16 - and will hope to take their first steps into international competition next year.
22-year-olds Brett and Stevenson both have a background in athletics, while Squire's sporting history lies predominantly in rugby.
Cornwall's Brett is an ex-heptathlete and 400m hurdler and Stevenson is a sprinter who made several English Schools 200m finals and won a brace of national bronze medals at university level before switching sports.
Squire, who is a year younger than his two female compatriots, was a county rugby player and swimmer in Staffordshire, who also played union for Newbridge while in university in Wales and for Whakarewarewa during a spell in New Zealand.
"It is always exciting to see new talent coming through - they're really excited about it and we are, too," said, Mark Smith, co-founder of Ignite, a London-based innovation and change consultancy who have been backing GB Skeleton since 2013.
"This is the third batch of Talent Squad athletes that we've been supporting in the early stages of their skeleton careers and we have no doubt that Philippa, Hannah and Stefan are inspired by the success of the other Talent Squad members.
Watching the squad develop on to the international circuits, and witnessing Craig Thompson and Maddy Smith win medals on their GB debuts, shows just how successful the Skeleton programme is.
"The insight Ignite gains from our relationship with GB Skeleton helps our clients really understand how elite performance can be achieved against all the odds. How lucky are we to work with such an inspiring group of athletes who bring the whole experience to life?"