Parsons seventh for a third time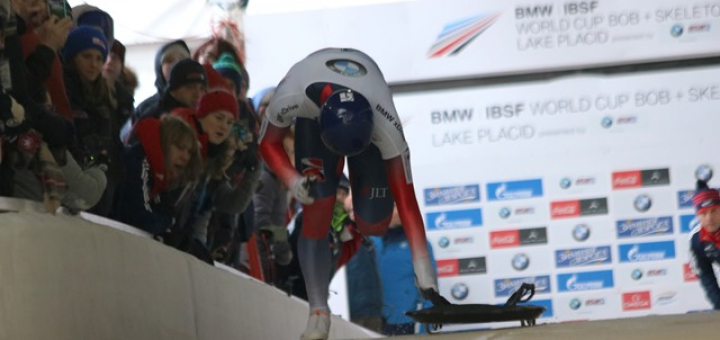 Dom Parsons finished seventh for the third time this term as he led the way for Great Britain in Saturday's World Cup skeleton action in Park City.

Parsons produced a fine second run to move up from ninth after Heat 1 in heavy snow and strong winds in Utah.
Britain's No1 male slider now sits sixth in the world rankings with three World Cup races to go and the World Championships in Igls a month away.
Parsons recorded a time of 1 minute 39.57 seconds to finish half a second outside the medals in a race won once again by Martins Dukurs as the Latvian maintained his 100 per cent record this season.
In the women's race, Laura Deas was unable to record a third podium finish of the year as she came 10th a week after winning bronze in Lake Placid.
Deas produced the second fastest start time in Run 1 and the third fastest in Run 2 but she couldn't stop World Cup leader Tina Hermann from winning a third race of the season.
The result means Deas drops from third to fourth in the world standings, with fellow Brit Donna Creighton still in 12th spot after finishing 14th this time around.
World Cup Skeleton, Park City, USA
Women's: 1 T Hermann (GER) 1m 41.08 seconds (50.13 & 50.95); 2 J Channell (CAN) 1-41.49s (50.34 & 51.15); 3 J Flock (AUT) 1-41.58 (50.57 & 51.01); 10 L Deas (GB) 1-42.38 (51.00 & 51.38); 14 D Creighton (GB) 1-43.04 (51.24 & 51.80)
World Cup Standings: 1 Hermann 1077pts; 2 Loelling 948; 3 Channell 930; 4 Deas 905; 12 Creighton 608
Men's: 1 M Dukurs (LAT) 1m 38.35s (48.99s & 49.36); 2 S Yun (KOR) 1-38.73 (49.15 & 49.58); 3 A Jungk (GER) 1m 39.05 (49.43 & 49.62); 7 D Parsons (GB) 1-39.57 (49.75 & 49.82);
World Cup Standings: 1 M Dukurs 1125pts; 2 Jungk 970; 3 Yun 940; 6 Parsons 768