Swift wins gold for GB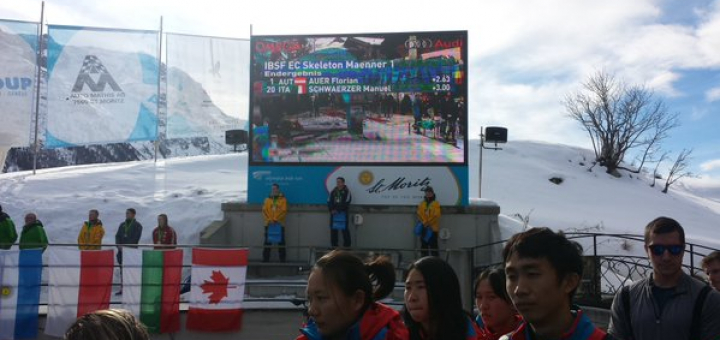 David Swift won skeleton gold for Great Britain on Wednesday as he registered the maiden win of his nine-year international career.
Swift triumphed in the penultimate race of the Europa Cup (EC) season in St Moritz, beating 42 other sliders in the process.
The 31-year-old from Devon won the overall Intercontinental Cup (ICC) competition last season and had previously claimed bronze and silver medals on both the ICC and EC circuits but his success in Switzerland was his first in more than 80 senior races.
"It's taken a long time, but it's such a nice feeling hearing your national anthem blaring out above the podium," said Swift, who was in second spot at the end of Run 1.
Training had gone really well this week and last so I had fairly high expectations but there's a big difference between performing well in training and racing, and that's something I've struggled with historically.
"I was eight tenths ahead of the Swiss slider who I thought would be my biggest rival after my first run so to then see a German slider come down in front of me was a bit of a surprise. I'd initially thought that I'd be out in front after that first run but I wasn't and I knew I had to give the second run everything I had.
"Push wise I was good and, although there were a couple of errors at the bottom, the drive was good enough. The race was executed almost as well as it could have been."
Swift produced the two fastest start times, with his effort of 4.84 in the second run a full tenth of a second ahead of his closest rival.
The 2008 Junior World Championship silver medalist produced a stunning second run to finish 0.67 seconds ahead of second-placed Fabian Kuechler, having trailed the German by one hundredth of a second at the halfway stage.
Swift has slid on both the World Cup and ICC circuits so far this season and will hope to make the GB World Championship team when it is announced in early February, with this latest result potentially a stepping stone to more success.
"I've been nursing a couple of niggles over the last month but (physio) Charli Roberston and (start coach) Ed McDermott have been managing it really well. I managed to get it 100 per cent this week and put down a good marker," added Swift.
"Hopefully that will be the track record for when the World Cup races come here the weekend after next.
"It definitely gives me confidence going forward for the remainder of the season. I'm keen to build momentum now and perform where it matters."
David Swift joined the GB Skeleton programme in 2007
Those sentiments were echoed by GB Skeleton Performance Advisor, Andi Schimd, who was impressed with how Swift transferred his training form into two impressive race times at the home of sliding.
"It was a great achievement for Swifty. He proved that he can produce the level of performance that we expect from him and he has shown he has what it takes to win in what was a very big field," said Schmid.
"He was the fastest pusher and has a lot of experience so, yes, we expected Swifty to do well, but he still had to go out there and perform.
"It should give him confidence going forward for the rest of the season."
Fellow Brit Jack Thomas claimed his third top ten finish of the season as he came eighth in the same race, with Jerry Rice 12th and James Howard 17th.
Thomas, Rice and Howard will all race in Moritz again today for the final leg of the Europa Cup campaign, with Swift sitting this one out and Kenny Howard sliding instead.