Swift seeks second run repeat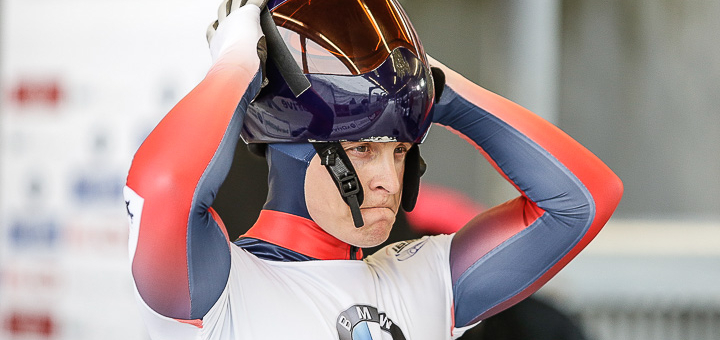 David Swift is aiming to ensure tomorrow's final two runs of the men's skeleton World Championships follow a similar pattern to the second and not the first.
Swift finished Day 1 in 18th place after a fine second slide in Igls, Austria, but he couldn't hide his frustrations with the mistake that cost him valuable time in Run 1.
The 31-year-old from Newton Abbot in Devon excelled at the start of both runs, clocking times of 4.91 and 4.90 respectively as only the three sliders in the medal positions proved quicker off the mark, and he is confident of jumping further back up the standings on Friday afternoon.
"I had a scrappy first run and it couldn't really have got any worse!" said Swift, who ended the opening heat in 23rd place.
"I was happy with my second run, though. I picked up a few spots and, hopefully, we'll carry on that way tomorrow. If I can do two more of those, we'll see where it puts me.
"Push-wise, I'm pretty happy and I'm in a good place. Pushing is my strength - it's just a shame that I negated that strength with an error in the spur in the first run.
"There's definitely an opportunity there to improve my position in the next two runs, though. I'm in a fortunate position because, usually, if you make an error on one run it's uncatchable in the two-run races. At least with four runs we can start grabbing some time back. I'd like to think I can pick a few more places off tomorrow and get back towards that top 12 area."
David Swift starts tomorrow's action in 18th place (c) Mike Varey
Swift will now attempt to switch off before heading back up to the track around lunchtime tomorrow, after Britain's female sliders, Donna Creighton and Laura Deas, have kicked off their World Championship campaign in the morning.
A visit to physio Charli Robertson will be followed by a film and then a lie in, with a surge up the leaderboard hopefully next on the agenda in 24 hours' time.
"I'll go and see Charli and get some physio and then it'll be the usual in terms of prepping the sled for tomorrow," added Swift.
"I'll watch a film and switch off before we go again. I fancy watching Spooks as my parents got me it for Christmas and I haven't had a chance to watch it yet. I'll then probably have a lie in in the morning as we've had quite a few early starts and we don't slide until the afternoon."
Fellow Brit Dom Parsons ended Day 1 in 10th place having been eighth after the first run.
Parsons, who was seventh in the World Championships in Winterberg last season, is just 0.07 seconds behind his two closest rivals, with a top-six finish currently half a second from his grasp.

"Dominic's sliding performance was very solid and that's the big positive we will take from today," said GB Skeleton Performance Advisor, Andi Schmid.
"He knows, though, that's it's very difficult to compete with the world's best, especially on this track, if your push isn't where you want it to be.
"On the flip side, Swifty's push times are extraordinary. He is where we always hope our athletes will be - in the top three or top five. He is very close to race leader Martins Dukurs and third-placed Sungbin Yun at the start, with Alexander Tretiakov very impressive out in front.
"It's just little, little mistakes that have cost him and that is frustrating for him as well as well us. His second run was much better than his first and it's brought him back into the top 20 and we'll now see what happens tomorrow.
"The race certainly isn't over for anybody. If it starts snowing tomorrow, it could be a very interesting day."
Latvia's Martins Dukurs leads the event by 0.53 seconds from Russia's Tretiakov and South Korea's Yun, with Axel Jungk and Tomass Dukurs in fourth and fifth place.
The men's skeleton returns tomorrow at 2.30pm GMT, with the race available live via BT Sport Europe and then again at 4.45pm through the BBC Red Button.
World Championships (Igls, Austria). Men: 1 M Dukurs (LAT) 1m 44.64s (52.14s & 52.50); 2 A Tretiakov (RUS) 1-45.17 (52.49 & 52.68); 3 S Yun (KOR) 1-45.19 (52.57 & 52.62); 10 D Parsons (GB) 1-46.34 (53.12 & 53.22); 18 D Swift (GB) 1-47.07 (53.74 & 53.33)