Summer camps set the tone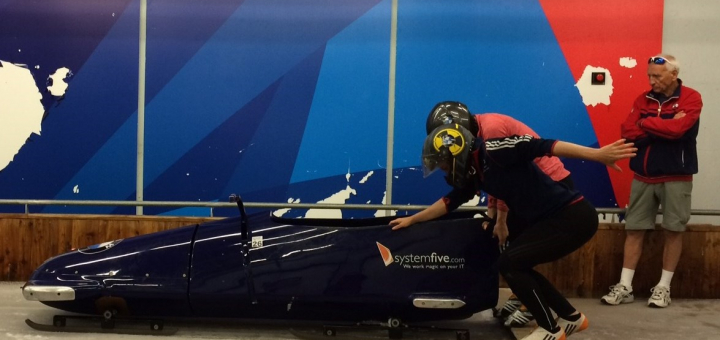 Great Britain Bobsleigh's preparations for the new season remain right on track after their latest summer camp according to the man charged with guiding GB to glory at the next Winter Olympics.
With the first World Cup races of the 2016/17 campaign still four months away, Performance Director Gary Anderson has just watched his elite squad return to pushing on ice out in Italy and he insists he's more than happy with the progress being made.
"We had a fantastic warm weather camp in June and we've spent the past fortnight in Switzerland and Italy stepping up the summer sprint and strength training and getting back out on ice at the 2006 Olympic track in Torino," said Anderson.
"We've been delighted with the facilities on offer and the athlete application - we ask a lot of them and they always respond. It's not always comfortable for them but that is by design as we are looking at athletes who want to make the journey to the next Olympics in 2018 and we need to see how they react and cope with every eventuality that could present itself in Pyeongchang.
"This squad have a tremendous work ethic and that's again been the core theme of the past two weeks. They put their all into training, both on and off the track, and the benefits of that hard work is clear to see.
"The conditioning work they've been doing with the likes of Michael Khmel and Chris Woolley has been intense to say the least and they've then been handed a full on schedule for their on-ice training, with head coach Dominik Scherrer working them hard on their pushing for two, two-hour sessions a day for the past week.
"Dominik has highlighted technical aspects of their pushing and worked on crew identification and we definitely feel we are ahead of the game compared to where we were this time last year and the year before.
"We can't rest on our laurels or feel too pleased with ourselves, though, as we know that we simply have to be this far on given the intensity and seriousness of what lies ahead now that the next Winter Olympics are just 19 months away. Pyeongchang will be here before we know it and, if we want to come back with a medal, we have to the best prepared we possibly can be and the most mentally and physically ready we've ever been."
Head Coach Dominik Scherrer has been impressed with what he's seen
The squad now head back to the UK for a month-long period of consolidation in the gym and at the push track before they head back out on ice in September.
That September excursion will follow the same format as the current camp, with a week at the Swiss Olympic Training Centre followed by another at the Sestriere Ice House and Tornio Olympic track.
And with a month to now take on board all they have learnt on ice and to kick on back home, Scherrer is confident he will see the squad arrive in a good place in September.
"Spending time on ice is vital to our chances of success this season and in Pyeongchang," said Scherrer.
"Not having an ice track ourselves means we have to maximise the ice time we get elsewhere and the team certainly did that over the past week.
"They know the importance of what they have been doing this month and you can see that in the way they have asked questions, listened to advice and concentrated fully on the task in hand. I've been really impressed with their attitude and application but we must continue the momentum."