Successful summer for Skeleton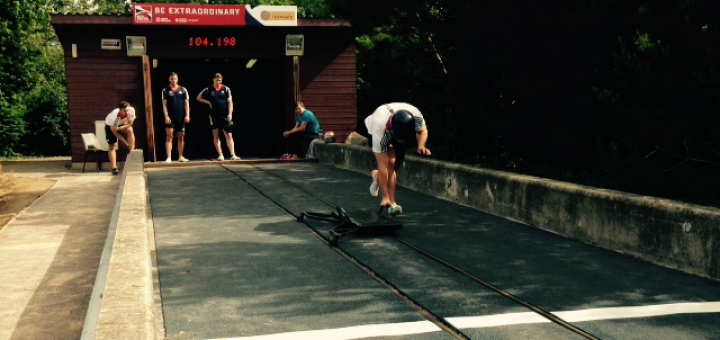 A summer of hard work and an ever increasing strength in depth means British Skeleton's Head of Performance, Danny Holdcroft, is in high spirits ahead of the new season.
Holdcroft has overseen a raft of hard work at the University of Bath over the past three months as Great Britain's top sliders look for more success on the international circuit after an impressive season last time out.
And with the first ice camp of the season now on the horizon, Holdcroft is happy with the shape of the programme and hopeful that a summer of progress will lead to a winter of success.
"The Performance Squad have been back in training since May and have been working hard throughout the summer. What we've seen so far has shown that we're on track to be competitive for all the circuits this season and in a solid position to build towards the Olympic Games in PyeongChang in 2018," said Holdcroft.
Training is all off-ice work at the moment so there's lots going on in the gym and on the push track, as well as in other areas we're trying to explore, with most of the work geared towards improving the athletes' start times during the summer.
"From what I've seen so far, and from what we've recorded in testing and on the gym floor, everything is looking positive. The guys are all in good spirits and we're very happy with the direction we've taken the programme in since Sochi."
Sochi saw Lizzy Yarnold claim global glory for GB with gold in the sport's showpiece event and what has followed has been equally impressive. Yarnold added the World Championship title to her Olympic crown in Winterberg in March but it is what is happening throughout the squad as a whole that has really impressed Holdcroft and his coaching staff over recent weeks.
"People see certain success stories in the media and someone like Lizzy has been absolutely fantastic for Great Britain and for the sport as a whole, but there are a number of other successes below the surface," added Holdcroft.
"Laura Deas is ranked number five in the world and had a great season last year; Dom Parsons finished seventh in the World Championships; Donna Creighton and David Swift won their respective overall Intercontinental Cup (ICC) titles; and, for the first time in a long time, we've got a group of male athletes coming through who were medalling and winning races on the first step on the circuit ladder. If those guys can step up to the ICC circuit and continue that form then our men's field is starting to look as competitive as the women's.
"The Talent Squad that have come through over the last couple of years are now biting at the heels of the World Cup guys and that gives us a competitive squad, with a hunger that drives the whole group."