Solid, satisfying & something to build on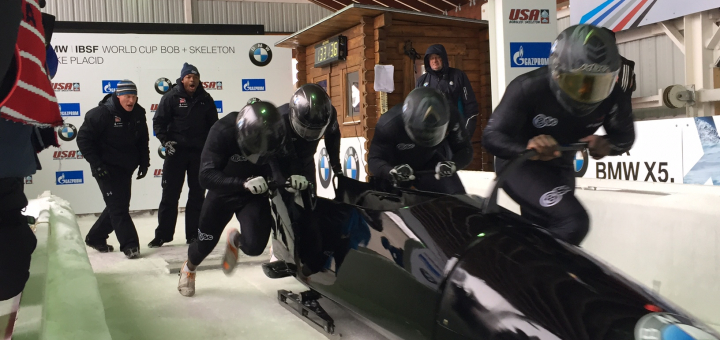 Solid, satisfying & something to build on: those are the thoughts of GB Bobsleigh Performance Director, Gary Anderson, at the end of the first part of the season.
Anderson saw his team win a handful of medals in the first two months of the campaign as they produced strong performances in all three disciplines and on three separate circuits.
And as well as picking up podium places for two different women's crews and separate 2-man and 4-man teams across the World Cup, Europa Cup and North American Cup competitions, British pilots gained invaluable ice time at a number of tracks, some of which they had previously had little or no experience of sliding.
"That was a very solid start to the season and an equally solid result to bring 2016 to a close," said Anderson, in reference to a sixth-place finish for his World Cup 4-man crew of Lamin Deen, Mark Lewis-Francis, Andrew Matthews and Tremayne Glling in Lake Placid in the last race of 2016.
"The final race day of the year was a really strong one for us. Winning a Europa Cup medal in the morning thanks to Bruce Tasker and Toby Olubi and then picking up another podium place in the afternoon was very satisfying and it's just reward for the hard work these guys have put in during the first part of the season.
We've been on the podium 13 times so far and have come away with five medals so the success we've had sets us up well for the 2017 World Cup races and the World Championships.
"Equally important is the experience we've gained on both sides of the Atlantic. Our pilots have had valuable ice time on some tracks that they previously had minimal experience of and that's massively important for their development, and for our chances of competing with the best wherever we are in the world."
GB Bobsleigh picked up plenty of medals in November and December
Anderson's team were at the BBSA's headquarters in Bath en masse three days after Christmas and have since headed back out on ice for World Cup races this coming weekend and Europa Cup action the week after.
Competition for places is more intense than ever and Anderson admits that's just the way it has to be given that the next Winter Olympics are now well and truly on the horizon.
"When the squads returned to the UK in mid-late December, the coaches immediately began evaluating and preparing the crews for January. Time off over the festive season isn't something we get much of as we had squad testing just after Christmas and start racing again this Friday," added Anderson.
"Everything we are doing currently is part of a wider plan on the path to the next Winter Olympic Games in Pyeongchang and time goes so quickly at this stage in an Olympic cycle. Those Games are now less than 14 months away and everything is geared towards ensuring we are in the best possible shape come February 2018.
We have a very strong and committed squad of athletes all fighting for a seat in our number one sleds and the first part of the season has given us some welcome selection headaches ahead of the World Championships.
"There is no doubt that these guys push each day in, day out and they bring the best out of each other in doing that. To be able to maintain the team spirit we have in such a competitive environment is a real credit to them all and it's something that is very evident wherever we go in the world.
"I said as soon as I started my role here back in 2010 that competition would be key to our success and I genuinely believe we have that right throughout our set up now. These athletes know they have to perform if they want to represent their country on the big stage and they are aware that there is always someone ready to step into their shoes should they not meet the standards we all set."