Simons set to go all out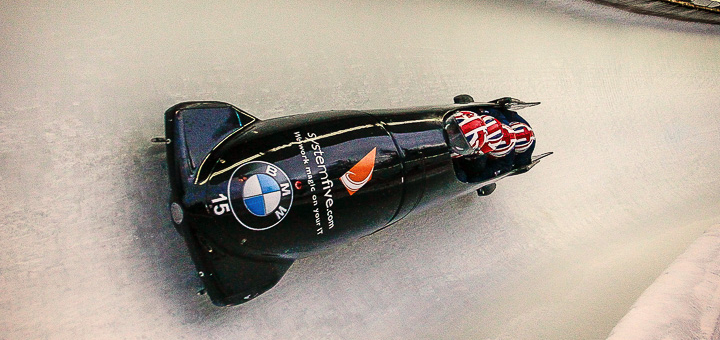 Ben Simons is ready to go 'hell for leather' when he returns to 4-man brakeman duty at the World Championships this weekend.
Simons has spent much of the season as a pilot on the Europa Cup and North American Cup circuits as part of Great Britain Bobsleigh's Accelerated Driving Programme but was back as a push athlete for last week's 2-man competition here in Igls.
And with his role in today's first two 4-man heats focussed entirely on getting GB off to the fastest possible start, Simons says he can follow a totally different approach to when he is pulling the strings at the front of the sled.
"It's totally different: as a brakeman, I concentrate purely on my physicality and looking after myself," said Simons.
"Although I'm always lending a hand to the driver in the garage, there is less responsibility in that regard, and it's refreshing in a way to get back to what I originally came into the sport for.
I approach the build up in a very different manner, too. I can do more physical training in the build up as a brakeman because there's more mental energy being expended when I'm a driver.
"On race day I can get a lot more hyped up for the race itself as a brakeman - I can go hell for leather, give 110 per cent and then, when I'm in my seat, that's it, I'm in my seat and still until the finish line. As a pilot, you still have to have that intensity at the start but then you have to switch into a totally different character as soon as you hit that seat."
Ben Simons (r) raced in the 2-man in Igls last week (c) Charlie Booker
Simons will rekindle a long-standing working relationship with pilot Lamin Deen when he features in the GB1 sled alongside Bruce Tasker and Joel Fearon this afternoon from 2.30pm GMT.
Simons and Deen competed together at the Sochi Olympics and the last World Championships in Winterberg and the 28-year-old from Shrewsbury is looking forward to continuing their progression on the big stage yet again.
"I've been with Lamin right from the start," added Simons, who tasted international competition as a 60m sprinter and 4x100m relay runner with Wales prior to switching to bobsleigh in 2012.
"Three years ago I had my debut 2-man race at this track behind Lamin and I got my first medal that day. I then went all the way through Olympic qualification and then into the Olympic Games behind Lamin and we were fifth together at the last World Championships. It's been a really good progression and we'll be hoping to top that this weekend.
I'm very excited and we're very positive. Sliding's been good this week in training. As a crew that's never really been tested before, we feel like we've shown in training that we are where we should be.
"We're all on our favoured handles and favourite positions and this crew has always been talked about as a very good prospect. It's exciting now that it's being utilised in the most important race of the year. It's now about making we sure execute on race day."
You can watch the 4-man crews in action live on BT Sport Europe today, with delayed coverage also available via the BBC Red Button at 3pm.