Second success for Swift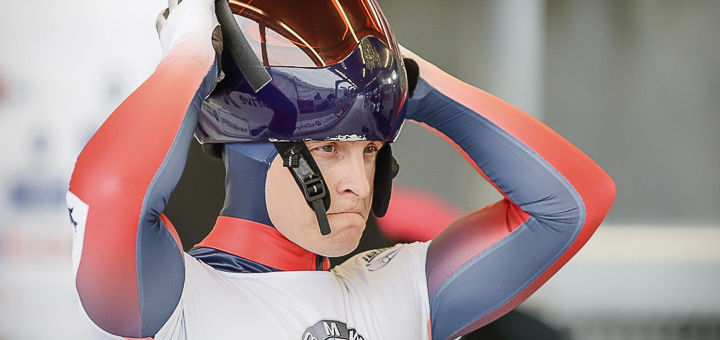 Great Britain Skeleton slider David Swift picked up his second win of the season today after being named as a Team Bath athlete of the month.
The 31-year-old received the accolade for January after he won his first international race in St Moritz, Switzerland.
Swift triumphed in the penultimate race of the Europa Cup (EC) season, beating 42 other sliders in the process.
The former sprinter had won the overall Intercontinental Cup (ICC) competition in 2015 and had previously claimed bronze and silver medals on both the ICC and EC circuits but his success at the turn of the year was his first in more than 80 senior races.
And that achievement has now been recognised by Team Bath and sponsors REVO Eyewear and Ellis & Kirkpatrick optometrists as Swift joined Judoka Prisca Awiti-Alcaraz, swimmer Anna Hopkin and badminton player Alex Lane in winning the first awards of 2016.
David Swift won his first senior race in January
"I was incredibly pleased to win my first international race and it's great to have also been recognized by Team Bath," said Swift, who finished two thirds of a second ahead of Germany's Fabian Kuechler in St Moritz.
"The quality and quantity of elite level athletes we have here in Bath is hugely impressive and it's great that we can all inspire each other and feed off each other.
"That makes winning this award even more special seeing as we're up against some fierce competition. With the Summer Olympics just around the corner as well, I can't wait to be cheering on some really close friends in a few months' time!
"I'd also like to thank REVO and Ellis & Kirkpatrick for their generosity - with the sun finally shining, it's come at a pretty good time!"
Swift receives a piece of REVO Eyewear from the Ellis & Killpartrick store in New Bond Street, Bath, who also offer an exclusive REVO discount to Team Bath athletes, students, members and staff.
Swift wins a new pair of REVO sunglasses
"It was a great pleasure to meet such a talented group of Team Bath athletes who have once again raised the bar for this award," said Tyron Dawkins, UK Brand Manager for REVO.
"REVO, Menrad Optics UK, Ellis & Killpartrick Opticians and I wish them the best of luck for the rest of 2016."