Pittaway picked for final three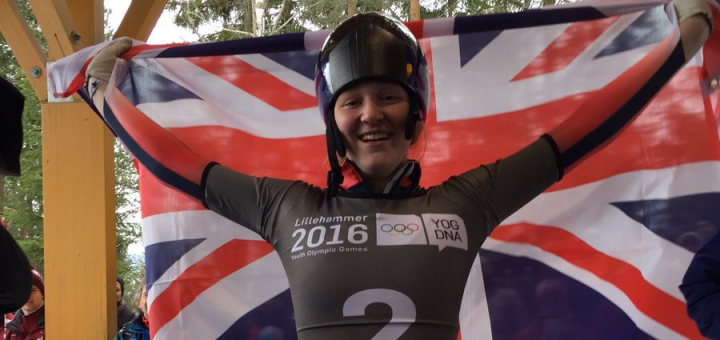 GB Skeleton's Ashleigh Pittaway remains in the running for the acclaimed SportsAid One to Watch Award after being named in the final three nominees.
Pittaway, who had been joined in the top 10 by GB Bobsledder and fellow World No 1 and Youth Olympic medalist Kelsea Purchall, will compete with triathlete Alex Yee and swimmer Tom Derbyshire for a crown previously won by the likes of diver Tom Daley and shooter Amber Hill.
The 16-year-old has so far beaten off competition from more than 1,100 rising British sports stars supported by SportsAid and could now cap a truly remarkable year when the award is announced at the 40th anniversary SportsBall in London on Thursday, November 24.
Having won all four of her qualification races prior to this year's Youth Olympics in Norway, Pittaway picked up the ultimate honour with gold in Lillehammer before stepping up to the adult circuit with a stunning bronze medal in the European Cup in Konigssee and a fine 15th place finish in her first World Cup event.
"At the start of the year, getting a gold at the Youth Olympics was my main goal for the season but to slide in a World Cup race too was amazing," said Pittaway.
"SportsAid have been fantastic this year and I was blown away when I found out I was on the shortlist. I couldn't believe it as there are so many other worthy athletes in the country so it is really special."
Pittaway is currently competing in the Intercontinental Cup competition on the senior circuit and was ninth and 12th in her first two races of the season.
The final three One to Watch nominees:
Ashleigh Pittaway (skeleton)
• 16 years old
• Received a SportsAid award in 2016
• Gold at the Lillehammer 2016 Winter Youth Olympic Games
• Third at the Konigssee European Cup event (senior)
• 15th at the Konigssee IBSF World Cup event (senior)
• Won every junior race she competed in last season
Alex Yee (triathlon)
• 18 years old
• Received SportsAid awards in 2013, 2014 and 2016 (Dave Aitchison Fund)
• Gold at the ITU World Duathlon Junior Championships 2016
• Bronze at the Quarteira ETU Triathlon Junior European Cup 2016
• Fifth at the ITU World Triathlon Junior Grand Final Cozumel 2016
• SportsAid's Athlete of the Month for May
Tom Derbyshire (swimming)
• 18 years old
• Received a SportsAid award in 2016
• Gold in the 1,500m freestyle at the European Junior Championships 2016
• Gold in the 1,500m freestyle and 400m freestyle at the Energy Standard Cup 2016
• Won gold, silver and bronze at the Samoa Commonwealth Youth Games 2015
• Ranked number one in Europe at age-group level in 1,500m freestyle