PDs positive after squad announcements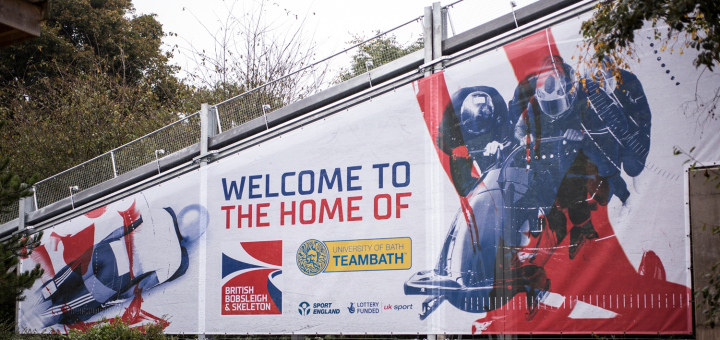 Performance Directors Gary Anderson and Andi Schmid are looking for progression on the path to the 2018 Olympics in Pyeongchang after announcing their respective Great Britain Bobsleigh and Skeleton squads.
Both sports named strong selections at the British Bobsleigh & Skeleton Association press launch at the newly refurbished push track facility at the University of Bath as the build up to the new international campaign gathers pace.
A combination of strength in depth and some star inclusions has left Anderson in high spirits, while Schmid is ready to see progress from every member of his squad after a summer of hard work for both sports.
The Great Britain Bobsleigh team have included Olympic gold medalist Mark Lewis-Francis in their largest-ever squad, with the Athens sprint relay king joining 23 other elite athletes as the team look to build on last year's fifth-place finish at the World Championships.
Pilots Lamin Deen and John Jackson, who have guided GB to within a whisker of the podium at the last three global championships, including the 2014 Winter Olympics in Sochi, are joined by a number of other vastly experienced internationals in the 21-strong men's team.
Olympic brakemen Joel Fearon and John Baines return to the team after a year's absence, while Andy Matthews, Ben Simons and Bruce Tasker all featured in Sochi. Tasker and Simons will continue their involvement with the Accelerated Driver Programme (ADP), with fellow World Championship athlete Brad Hall also taking part in that programme for the second year running.
Simeon Williamson - twice a summer Olympian in Beijing and London - Olly Biddulph and Jordan Smallin all have World Championship experience and Rich Stead and Justin Oro-Campus are among an impressive number of athletes to have won medals on the international circuit over the last few seasons.
"I'm delighted to be able to announce such a strong and exciting squad for the new season," said Anderson, who will select individual crews between now and the start of the season next month. "Things are now looking very different to when I joined the organisation in 2010 and I'm confident we will continue to compete with the very best in the world this winter.
"Bringing in Mark Lewis-Francis is obviously a huge boost but the strength we have throughout the squad as a whole is equally impressive.
We have come a long way in a short space of time and are now taken seriously and considered a major contender by the heavyweight teams like Germany, Canada and the United States.
"I said when I started that having two world-class drivers would be vital to our chances of finishing on the podium at the Olympic Games and World Championships and we now have that talent in the team with Lamin Deen and John Jackson.
"The fact that we don't have an ice track here means that we have to be the fastest starting crew in the world if we want to win medals and the speed and the attitude of the athletes we have is making that a real possibility."
The Great Britain Skeleton squad features two sliders who finished in the top 10 in this year's World Championships in Winterberg, with Laura Deas claiming seventh and Dom Parsons ninth last season.
Deas claimed a brace of podium places in Calgary and St Moritz in her breakthrough World Cup season as she finished fifth in the overall standings thanks to six top-10 placings in eight races. The former Wales tetrathlon captain jumped 20 places in the world rankings in just a single season and will relish leading the challenge for the British women's team alongside Donna Creighton in the absence of Olympic, European and World Championship winner Lizzy Yarnold, who is taking a season-long break from competition.
Creighton steps back up to the World Cup circuit after winning the Intercontinental Cup (ICC) crown last time out and will no doubt be looking to build on her previous fourth-place finishes at the very top level of competition.
The third female slider is Derby's Jor'dan McIntosh, who completes a remarkable comeback to the sport after suffering a brain haemorrhage in the summer of 2014. McIntosh missed the entire 2014/15 season as a result of the injury - which threatened to stop her from competing ever again - but she is now back on the ice and ready to make up for lost time.
As for the men's squad, former World Cup bronze medalist Parsons is joined by Ed Smith and ICC champion David Swift on the top tier, with Kenny Howard and Jerry Rice looking to emulate Swift's success on the Intercontinental Cup circuit and James Howard and Jack Thomas featuring in European Cup competition.
"I have high hopes for the coming season and am looking forward to seeing every member of the squad make progress and impress on whatever circuit they have been selected for," said Schmid, who will review the circuits on which the athletes compete mid-season.
We have worked hard and enjoyed lots of success in recent seasons and I am confident that the group of athletes who will be representing Great Britain will continue to do the nation proud.
"Laura (Deas) and Donna (Creighton) enjoyed fine seasons in 2014/15, with Laura making huge strides in the World Cup and at the World Championships and Donna showing her strength and consistency to win the overall ICC title. It's also fantastic to see Jor'dan (McIntosh) back given what she had to deal with last year. She has shown great courage and determination and I'm sure her hard work and patience will be rewarded.
"We also have some strong contenders and some real strength in depth in the men's squad, with Dom (Parsons) and Ed (Smith) coming back from injury and looking to kick on from their appearances at the last World Championships.
"The likes of David (Swift) and Jerry (Rice) have also shown they know how to get on to the podium on a regular basis and Jack Thomas and James Howard also share a similar mindset and will be determined to keep on improving as we build towards the next Winter Olympics in Pyeongchang.
"We have no intention of standing still and are always looking at the steps we need to take to succeed in South Korea. We have a strong group of seven Talent athletes making significant progress in their second year in the programme. They have just entered a very strong training year where they will receive top coaching and top support and will learn the intricacies of the sport and the individual tracks before taking part in their first competition in North America at the end of the season."
Great Britain Bobsleigh squad
Men
Olly Biddulph (pilot)
Lamin Deen (pilot)
John Jackson (pilot)
Brad Hall (ADP pilot)
Ben Simons (ADP pilot)
Bruce Tasker (ADP pilot)
Johnny Anderson
John Baines
Joel Fearon
Tremayne Gilling
Paul Judson
Mark Lewis-Francis
Andy Matthews
Ben Mccullough-Young
Toby Olubi
Justin Oro-Campus
Simeon Williamson
Judah Simpson
Jordan Smallin
Rich Stead
Ashley Watson
Reserves: Axel Brown, James Hedger
Women
Mica McNeill (pilot)
Natalie de Ratt
Aleasha Kiddle
Reserve: Anya Kay
Great Britain Skeleton squad
Men
Dominic Parsons (World Cup)
Ed Smith (World Cup)
David Swift (World Cup)
Kenny Howard (ICC)
Jerry Rice (ICC)
James Howard (European Cup)
Jack Thomas (European Cup)
Women
Donna Creighton (World Cup)
Laura Deas (World Cup)
Jor'dan McIntosh (European Cup)